Need for Speed Carbon Showroom
Sgt. Drifter's Tanner visits Palmont (If Driver San Francisco was remastered) 1971 Dodge Challenger R/T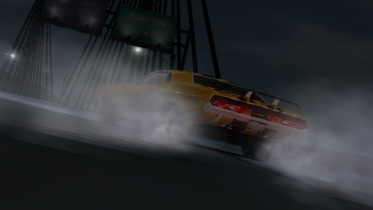 Detective John Tanner visits Palmont City in his pure muscle 1971 Dodge Challenger R/T. (Driver San Francisco remastered) It was my favorite game and sadly I play at 4 fps. Then I had this idea.
I know it looks like night time, even though he drives in the day, but the vinyls are better here.
Vinyls used: ONLY SHAPES - Body paint was black and I made a huge yellow shape to make the spoiler black.
Other mods used: nlgzrgn's Extra Options v3
Paint software used: Krita (for the edgy tilting)
BLAST FROM THE PAST (GARAGE) CHALLENGE!
Sadly the developers would not make a better garage
That is why only "Slalom" is not mentioned here.
PS I think Tanner is one of the drift kings.