Need for Speed Most Wanted Downloads
2005 Nissan Skyline GT-R R34 NISMO Z-Tune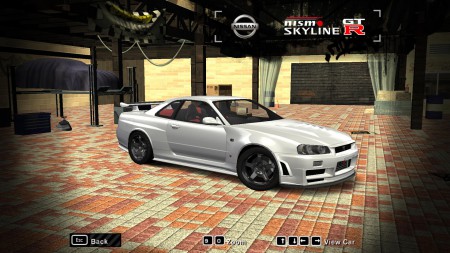 Views 3,904
Downloads 1,420
Version Most Wanted
Brand Nissan
This car replaces Fiat Punto (PUNTO)
This car was converted from NFS World and NFS Carbon by YochiThMaster333 aka Eevee (me).
Replaces: Fiat Punto
Tuning:
Bodykits
Spoilers
Rims
Hoods
Roof Scoops
Performance
Paint
Vinyls
Rim Paint
Window Tint
Decals
Features:
NFS:UC driver model
Working brakelights
Unlocked after beating Ming
Costs 150000 in career mode
Known bugs:
How to install:
Download and install MW 1.3 Patch
Download and install NFSMW ModLoader
Extract ADDONS folder to game directory
Add or edit shortcut. In target box add "-mod" at the end without quotes
Run the game using shortcut and choose Fiat Punto. Nissan Skyline GT-R R34 NISMO Z-Tune will be visible instead of Fiat Punto.
FAQ:
Q: What is game directory?
A: That's the folder where your NFSMW installed
Uploaded on:
nfsaddons.com (this site)
nfscars.net
Please don't reupload to these sites.
Thanks to:
arushan for his NFSMW ModTools
Oleg M. for Zmodeler
nlgzrgn for fixed model compiler