Need for Speed Most Wanted Downloads
2005 Nissan Skyline GT-R R34 NISMO Z-Tune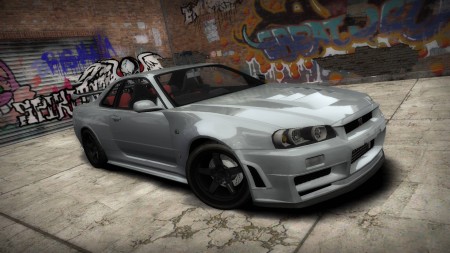 Views 175,739
Downloads 23,353
File updated on: September 6, 2023
This car replaces None (Addon car)
This car was converted from NFS World and NFS Carbon by YochiThMaster333 aka Eevee (me).
Tuning:
Bodykits
Spoilers
Rims
Hoods
Roof Scoops
Interior
Roof
Brakes
Headlights
Taillights
Side Mirrors
Attachments (Slot 1: Seats; Slot 2: Roll Cage; Slot 3: Rear Trunk)
Performance
Paint
Vinyls
Rim Paint
Window Tint
Decals
Numbers
Features:
Working brakelights
Unlocked after beating Ming
Costs 150000 in career mode
Known bugs:
How to install:
Addon version:
Download and install NFSMW Unlimiter
Run Binary v2.8.0 as an administrator, click on red (User Mode) icon, then pick SKYLINEZT.end and look for NFSMW game directory (ignore the errors if there are any)
Run NFS-VltEd, click File - Open and choose NFSMW game directory, then click File - Import - ModScript and pick SKYLINEZT.nfsms. Save.
Run the game and create a new save game. If the car appears visible properly, then you did all right.
FAQ:
Q: What is game directory?
A: That's the folder where your NFSMW installed
Uploaded on:
nfsaddons.com (this site)
nfscars.net
nfsmods.xyz
Please don't reupload to these sites.
Thanks to:
arushan for his NFSMW ModTools (original conversion)

nfsu360 for his NFS-CarToolkit (updated versions)
Oleg M. for Zmodeler
Version 1.4

uploaded September 6, 2023

Eevee uploaded a new version. The new file is 32.01 MB.

- Removed ModLoader version entirely
- Added three new body kits (aside from one kit variation which explained below): Stock V-Spec Kit from NFS World (with Splitter from NFS ProStreet (unpainted splitter) and NFS Shift (splitter extension)), Shadow Kit from NFS Carbon (albeit without foglights a la NFS ProStreet), and Borillo kit from NFS World. Internal names for these kits are KIT09_BODY, KIT10_BODY, and KIT12_BODY respectively, with the latter two using "Stratospeed" icon by Vee-Tec.
- Added new rim styles: V-Spec (Stock GT-R R34 rims from NFS World) and Calsonic Skyline JGTC (Forza Motorsport 2's Calsonic Skyline)
- Gave the kits actual names and icons:
-- Two NFS Carbon wide body kits that originate from NFS Underground 1, kits 3 and 4 of this mod, were given the names of "Vapor" and "Mantis" respectively, exactly as they named in NFS Underground 1 and 2. Both use "Custom" icon made by AttilaK.
-- The third NFS Carbon kit is now called "Stratospeed", since it is almost the same widebody kit the ProStreet Skyline uses. Uses "Stratospeed" icon by Vee-Tec
-- Two autosculpt kits from NFS Carbon (Stag and Sweeper) received proper names instead of using "Body N" (N - number). Stag uses "Stratospeed" icon (because it existed in ProStreet), Sweeper uses "Custom" icon (because it is the only tuner kit to not carry over to ProStreet)
-- The first kit is called "Drag" just like it did in NFS World. Uses "Custom" icon.
-- The other Skyline kit from NFS World is now called "Verge Wide" (as it was called in NFS World) and uses "Custom" icon as well.
- Altered the sixth bodykit by various ways:
-- Name changed from "C-West" to "Sunline Racing", because people told me that it resembles Sunline Racing Skyline more than 2 Fast 2 Furious Skyline, despite sharing the same front bumper, even though I only used front bumper of this thing due to me having problems with adapting Heat and Unbound bodykit parts to NFS World model (this includes Sunline Racing's Skyline fenders).
-- Added canards to it. However, the canards variant has internal name of KIT11_BODY. The "No Canards" variant (named "Sunline Racing (No Canards)") still retains KIT06_BODY internal name.
-- Its mapping was fixed further since it uses different front fender models. These fenders were lated adapted to V-Spec and two other new kits, i.e. three other new kits.
-- It now uses my own made "Sunline Racing" icon.
- Re-added some vanilla vinyls that were replaced with my own custom vinyls, however, this one uses vinyls from Recompiled Vinyls. Such custom vinyls now belong to a new "Custom" category.
- Included the 1024x vinyls into archive, which eliminates the need of looking into MEGA folder for this mod (such file was removed from MEGA folder as well for that reason)
- Added this very Supra vinyl inspired by Hot Wheels' Fast and Furious Premium 2023 Skyline (feeling cursed yet?)
- Added 10 new paints (7 taken from GT-R V-Spec '99, 1 taken from GT-R Special Color Midnight Purple III (uses custom material), 1 taken from Z-Tune, 1 taken from NFS Underground 1 for Eddie's car)

Version 1.3b

uploaded February 7, 2023

Eevee uploaded a new version. The new file is 10.49 MB.

Fixed an issue where Nissan Skyline Nismo Z-Tune is treated as naturally aspirated car (as the performance data is based on Punto's, which is naturally aspirated car, however, the performance values are vastly different from Punto). Now it's turbocharged at stock as it should be.

Version 1.3a

uploaded January 30, 2023

Eevee uploaded a new version. The new file is 10.49 MB.

- Fixed an issue where two kits had no reverse light marker in addon version
- ModLoader version was also updated very slightly to fix the reverse light marker rotation (a very subtle change but who cares)

Version 1.3

uploaded January 30, 2023

Eevee uploaded a new version. The new file is 10.49 MB.

- Added two new body kits (one from Carbon (aka Vapor, since you all need to stop whining about this kit), other one from World (both kits taken from normal Skyline))
- Added two new spoilers
- Added two new hoods (both from ProStreet)
- Added carbon side mirrors
- Added carbon roof styles (which resulted Skyline's geometry to have roof separated from body kits) and one extra roof style that adds Blue Safety Car lights taken from RR3's Mercedes-AMG GT R Safety Car (thanks to GM25 for ripping this car's model from Real Racing 3)
- Added two interior styles (which includes two different interior textures taken from NFS World's normal Skyline R34 and NFS Carbon's Skyline R34)
- Added three more brakelight styles (Tinted, V-Spec (NFS World's normal Skyline R34), V-Spec Tinted)
- Added four more seat styles (those are the ones used by my other cars like '95 Eclipse GSX, Saturn Ion, '71 Mustang Mach 1, etc. Of course, like the existing seats, new ones also come from Lada Racing Club)
- Added extra drivers (Undercover Female, World Female, ProStreet) and reverted NFSUC/World Male Driver's clothes back to its original colors
- Fixed mapping on C-West Kit (issue reported by PonySparkle69)
- Edited headlight texture to remove glowing part in it (as the car comes from NFS World, the glowing part is necessary in that game to simulate how the reflectable surface reflects light sources). The texture is a mix of NFS Carbon's Skyline and NFS World's Nismo Z-Tune R34.
- Adjusted decal geometry
- Removed duplicate badge on Mantis body kit (i.e. Kit 4)
Some changes also affect ModLoader version that I don't support it anymore. Exclusive ModLoader changes include some bodykit alterations inside car's interior.

Version 1.2

uploaded May 12, 2022

Eevee uploaded a new version. The new file is 8.69 MB.

- Added C-West bodykit and GT Wing I (In ModLoader version, C-West kit replaces existing kit 1 (Drag Kit from NFS World). In Addon version, it is completely added (not replaced) as kit 6)
- Replaced the cardata.end file with updated version based on my Mazda Familia GT-R's cardata.end file
- SKYLINEZT.ini file was updated to feature Custom Random Parts

Version 1.1 hotfix

uploaded March 22, 2021

Eevee uploaded a new version. The new file is 8.07 MB.

Fixed cardata.end file which added logos under different name in the files (which made this car to appear with tp temp350 logo)

Version 1.1

uploaded March 14, 2021

Eevee uploaded a new version. The new file is 8.07 MB.

- Fully recompiled the entire model using NFS-CarToolkit
- Added Binary addon version
- Car now features extra customization (only available in Addon version)

Initial version

uploaded May 6, 2020

Eevee uploaded initial version. The original file is 4.87 MB.