Need for Speed Porsche Unleashed Downloads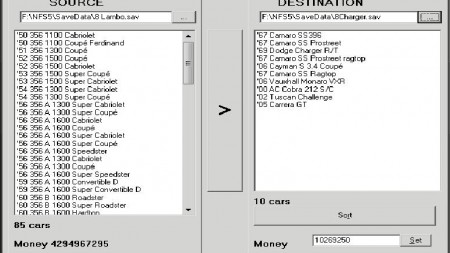 Version Porsche Unleashed
File Size 240.15 KB
CarSuite is a small utility For NFS 5 Porsche 2000. It allows to copy cars from one savefile to another, edit car in your save file. It allows also to edit simfiles.
For additional help, please consult the about box included in the software.
Known Bugs
=============
* Getting NFS installation path by using registry doesn't work.
You have to specify the path in the options dialog.
Uninstall
==========
It is very simple, just delete the directory where you installed CarSuite.
License
=========
CarSuite is absolutely free,
You may install and use unlimited number of copies of the Software.
You may distribute this Software in its unmodified form as long as each copy that you make and distribute contains this readme file.
According the fact this software is completely free, you're not allowed to sell it or include it in a commercial package.
THIS SOFTWARE DISTRIBUTED "AS IS" WITHOUT WARRANTIES AS TO PERFORMANCE OR FITNESS FOR ANY PARTICULAR PURPOSE OR ANY OTHER WARRANTIES WHETHER EXPRESSED OR IMPLIED. YOU USE THIS SOFTWARE AT YOUR OWN RISK. NOBODY WILL BE LIABLE FOR DATA LOSS, DAMAGES, LOSS OF PROFITS OR ANY OTHER KIND OF LOSS WHILE USING OR MISUSING THIS SOFTWARE.