Need for Speed Most Wanted Downloads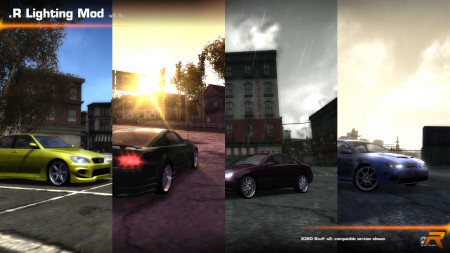 Added On September 22, 2021
Views 6,814
Downloads 1,529
File updated on: June 14, 2022
Features:
Completetly re-done from the ground up
Standard, Standard (no overbright) and X360 Stuff v2-compatible (VLTEd version exclusive) versions available
Alternate sunset settings (a cool morning sunrise) for the above
Optional reduced brightness patch for certain texture mods
Uninstall option for VLTEd version (returns it to vanilla values)
Installation:
First unzip the zip to a folder, then:
Modloader Version
Move any of the folders in the _ModLoader Version/Standard or _ModLoader Version/Alternate Sunset (Sunrise)folder to the ADDONS\CARS_REPLACE folder of NFSMW
VLTEd Version
In NFS-VLTEd go to File > Import > ModScript (Ctrl+I) and import the _VLTEd Version\.R Lighting Mod -v3- Setup.nfsms file. Follow the prompts and save.
Used tools:
Notepad | NFS-VLTEd | RockportEd
Copyrights/permissions:
If you would like to modify and/or distribute this mod, please:
keep this readme file without any alterations whatsoever (in case of just sharing this mod around)
give me proper credit (AJ_Lethal) for creating the mod
Seriously, respecting those conditions is not hard at all. Unless you're terminally dumb or a shameless, talentless hack.
Version 1.3

uploaded June 14, 2022

AJ_Lethal uploaded a new version. The new file is 1.6 MB.

-reorganized scripts
-new alternate sunset settings (sunrise)

Version 3.5

uploaded January 27, 2022

AJ_Lethal uploaded a new version. The new file is 1.34 MB.

djusted timeofday and visuallook values, sunny now has warmer lighting.

Version 1.1

uploaded September 25, 2021

AJ_Lethal uploaded a new version. The new file is 1.47 MB.

-revised ambient and diffuse lighting values for sunny time of day

Initial version

uploaded September 22, 2021

AJ_Lethal uploaded initial version. The original file is 1.47 MB.