Need for Speed Most Wanted Downloads
2010 Renault Dezir Concept (ADDON)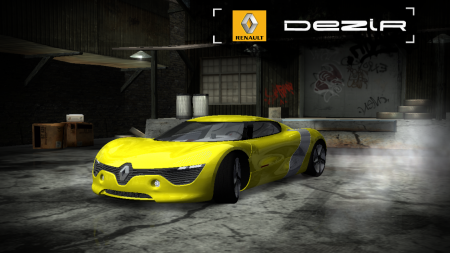 Version Most Wanted
Brand Renault
This car replaces None (Addon car)
This is my 33rd mod uploaded here. This car replaces nothing.
If you want this car mod (modloader version) to replace Cadillac CTS , then you can get the mod here: Renault DeZir Concept.
Join my Discord server for discussions relating this : https://discord.gg/tBKjnhrFQc

Customization and tuning:
- Performance(NOS and turbo upgrades are disabled, cuz it is an electric car)
- Visuals
- Rims

Features:
- New performance data*
- LOD parts
- Working brakelight texture
- NFS UC Driver model
- HD logos

NEW FEATURES:
-Reworked engine audio
-Increased acceleration and top speed to 370KPH (in modloader version it was 308KPH)
Bugs and Issues:

-Nothing for now. Tell me if you find one.
Others:
-Added an uninstallation script for those who feel like to delete my addon.
Credits:
-Eclipse 72rus aka CorvetteZ06 for the original car mod and granting me permission(Cishy got the permission for me since I was unable to contact him) to release his mod as an addon
-Myself(N4SRazer aka NFSMWFAN) for converting into addon
-nfsu360 for NFS VltEd 4.6, TexEd 1.7
-MWInside for MW ReCompiler
-nlgzrgn for his NFSMW Unlimiter and Ed-The Car Dealer
*NOTE: I will not accept any single addon requests for now because I have flooded number of requests made to me by users. But you can suggest me a modpack if you have any ideas.

Version 1.1

uploaded January 5, 2021

N4SRazer uploaded a new version. The new file is 1.86 MB.

**UPDATE 1** Added random opponents and fixed transmission nodes

Initial version

uploaded January 3, 2021

N4SRazer, Eclipse 72rus uploaded initial version. The original file is 1.86 MB.