Need for Speed Most Wanted Downloads
Pagani Huayra 2012 (ADDON)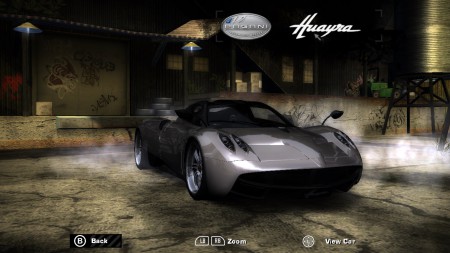 Views 3,315
Downloads 926
This car replaces None (Addon car)
My 1st Pagani Addon car gets released in this website. It replaces nothing, folder name is HUAYRA
Get the Pagani Huayra from ModLoader if you want to replace SLR with its 2 Versions
If you want more mods, visit League Auto City for more car mods:

https://www.facebook.com/leagueautocity
My Addon car gets featured & video provided by KryZeePlays on YouTube. Link here for his gameplay:

https://www.youtube.com/watch?v=8AxZRF1ubYI

Pagani Huayra converted from Forza Horizon
Features:
- 2 versions of the Addon car: Silver rims & a new color material, & the Zonda R's Gold Rim with vanilla color material
- Working brakelights texture
- License plate was accessible under Hood for both versions
- Realistic performance data
- Special anti-theft measures: a special chrome 3D model in interior and a special dds in Textures.bin
Others:
- Added an uninstallation folder that has an nfsms file included for people to uninstall & install any addon cars they have while the endscript file was in the setup (this will also remove the files for endscript. Extract the files again manually in CARS Folder)
- Blue color was set as stock color for Silver rims version & the Zonda R's Gold rims version has a Metallic red as stock color in ED Version while Silver is set as stock color in Binary Version
- A hard brake that will shift down to 1 gear quickly when you press the down button during free roam, races & pursuit. Watch your brakes, I tested it by myself
Installation:
It's in the Installation for ED & Binary from the Archive & the "Readme first!" inside the 2 versions.
Known bugs/Issues (known): The gauge itself for the addon car will not move its arrows (The Idle on gauge) depends on other races at the starting line, and the cops will call it Volkswagen twice or whatsoever. They should have called it Pagani but they will call this car correct when using color Black, White, etc. So, ignore these. Tell me if you find the others
Credits:
- Extracted, converted & retexture by AC Lambor. Also granted me to add his car mods in NFS MW BUT to credit him & provide the link for the ModLoader car.

- Screenshots provided by Black Era
- Performance by Typhoons

- MW Recompiler by MWInside (Current)
- NFS-VltEd, NFS-CarToolkit & NFS-TexEd (v1.7) by nfsu360
- NFS MW Unlimiter & Ed - The Car Dealer! by nlgzrgn
- Ant Renamer by antp.be
- Binary v2.5.5 by MaxHwoy
Version 1.3a Hotfix

uploaded January 24, 2021

Raverz12345 uploaded a new version. The new file is 4.24 MB.

The Yaw Control fields are being resized now since I forgot that I removed this thing...

Version 1.3

uploaded January 21, 2021

Raverz12345 uploaded a new version. The new file is 4.24 MB.

Things & changes are listed in Changelogs:
- The price of this car was slightly decreased to match its IRL Price inside the Car Lot
- Handling stat was buffed, allowing this car to handle in every location & twisty corners (if skilled)
- Decreased the Handling rating & weight to match its IRL weight. It will also affect its performance as well such as its acceleration for this change
- Lowered Geometry file size using CarToolkit on its 2 Versions
- Added an ini file in Mod/scripts/UnlimiterData Folder to have customization visibility whatever the mods have or don't have parts & visuals, only in Unlimiter v3
- Added a command in uninstall endscript (install endscript)
- shortened the name of the setup endscript (install endscript)

Version 1.2

uploaded November 2, 2020

Raverz12345 uploaded a new version. The new file is 3.2 MB.

The Addon car now supports Binary Compatibility & separated inside the folder of the file (ED & Binary Files). The 2 versions of the Addon Car still remains in "Choose from 2 Versions" folder. Special Colors for both versions has been REVOMED & the Stock Color is Silver in Binary Version

Version 1.1

uploaded August 21, 2020

Raverz12345 uploaded a new version. The new file is 3.17 MB.

Initial version

uploaded August 20, 2020

Raverz12345, ACLambor uploaded initial version. The original file is 3.17 MB.