Need for Speed Most Wanted Downloads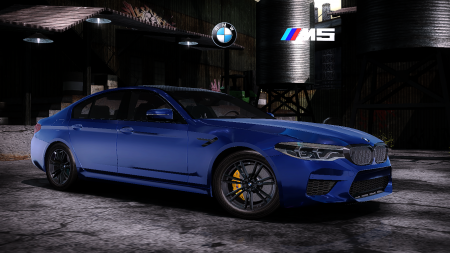 Added On September 3, 2021
Views 2,896
Downloads 505
File updated on: September 6, 2021
This car replaces Cadillac CTS (CTS)
=====================================================================
2018 BMW M5 [F90] V3 - Need for Speed Most Wanted 2005 Conversion
Converted by Rauny_noobexX
Modloader version replacing Cadillac CTS
=====================================================================
Customization and tuning :
- Performance
- Part :
Bodykits (3 new bodykits)
Hoods (a new hood + a new canard + mixed)
Spoilers (3 new spoilers + vanilla spoiler)
Roof scoops (a new roof scoop and a new roof spoiler + mixed)
Rims
- Visual :
Paint
Vinyls (only 5 contest vinyls which taken from V2 liveries)
Decals
Numbers
Window Tints
Features :
- LOD parts
- Working damages
- Working brakelight texture
- 3D NFSMW license plate
INSTALLATION :
Unpack all files.
Copy ADDONS folder to NFS Most Wanted directory folder
Vinyl installation : copy Vinyls.bin from vanilla Cadillac CTS folder (NFSMW/CARS/CTS) to BMW M5 (replaces CTS) folder (NFSMW/ADDONS/CAR_REPLACE/CTS)
CREDITS :
EA and Turn10 - mesh & textures
nfsu360 - NFS-CarToolKit
Adobe - Photoshop CS6
Oleg Melashenko - ZModeler 2.2.6
Blender foundation - Blender
LRF Modding - Attributes
Desanosan24 - adding extra customization
Version 1.1

uploaded September 6, 2021

Desanosan24 uploaded a new version. The new file is 7.49 MB.

- Changed splitter and diffusor for 1st bodykit
- Added a new canard (mixed with hood) under hoods section
- Added a new spoiler (sport) under spoilers section
- Added Verde textures from V2 (optional)
- Added XRC vinyl, paintable (body04) and preset color (unique01) under vinyls section

Initial version

uploaded September 3, 2021

Desanosan24, Rauny_noobexX uploaded initial version. The original file is 7.49 MB.