Need for Speed Most Wanted Downloads
2014 Infiniti Vision Gran Turismo Concept (Add-on)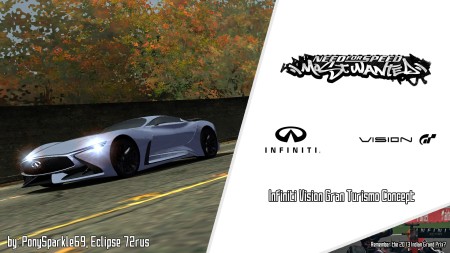 Views 1,490
Downloads 289
This car replaces None (Addon car)
Fly me to the moon...

2014 Infiniti Vision Gran Turismo Concept

Converted by: Eclipse 72rus
Converted to addon and edited by: PonySparkle69
Converted from: Asphalt 8: Airbourne
Replaces: Nothing
---
Modloader version:
https://www.nfsaddons.com/downloads/nfsmw/cars/infiniti/3703/infiniti-2014-infiniti-vision-gt.html
---
Requires:
NFS VltEd 4.6
NFS TexEd 1.7
Binary (latest version)
NFSMW Unlimiter (3.0 to latest)
PonySparkle69's Custom Drivers Textures Mod
---
Features:
Updated performance.
Working brakelight texture.
Added headlight markers.
Scratches.
HD and Updated Logos.
NFS UC Driver Model.
Rei "Freakin" Ayanami.
---
Customization and Tuning:
Parts:
Performance:
Engine
Transmission
Suspension
Nitrous
Tires
Brakes
Turbo / Supercharger
Visuals:
Paint
Vinyls
Rim Paint
Window Tint
Custom Gauges
Drivers (NFS UC Driver, Rei Ayanami)
---
Read the readme file, for some instructions on how to do it.

---
Credits:
Adobe Photoshop CS6 for arranging the driver textures.
Blender for parts and materials renaming, and adding position markers.
Microsoft PowerToys for resizing vinyls texture from 1024x to 512x at once.

nlgzrgn for NFSMW Unlimiter with Extra Customization.
nfsu360 for NFS Vlt-Ed 4.7, NFS Tex-Ed 1.7, NFS CarToolKit 3.1.
MaxHwoy for Binary 2.8.
PonySparkle69 for converting this mod into an addon.
GK-1nMoS9jsV (a.k.a. grazekai) for the ripped/rigged XPS character models.
KenjaMago for testing this mod, and updating the VLT performance script.

Eclipse 72rus for converting this car to Most Wanted.