Need for Speed Most Wanted Downloads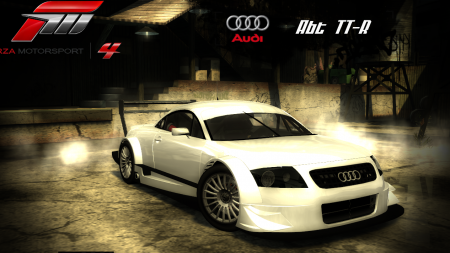 Views 4,653
Downloads 625
File updated on: July 17, 2022
This car replaces None (Addon car)
,2004 Audi Abt TT-R converted from Forza Motorsport 4.

Price:136.000$
Unlocks after beating Ming(Blacklist #6)
Customization:
Everything except "Bodykits,Hoods and Spoilers(Because its an race car)"
If you have a bug with brakes make sure you installed nlgxzef is leftover brakes fix and change brakes from aftermarket.
If secondary logo looks bad sorry for it because there is no badge logo for this car.I created my self with custom font.
Enjoy!

Credits:
Model by Turn 10 Studios
Converting by rybetasz
Secondary logo by santa coma
Binary by MaxHwoy
NFS VltEd,TexEd,CarToolKit by nfsu360
Version v1.0.1

uploaded July 17, 2022

rybetasz uploaded a new version. The new file is 27.78 MB.

-v1.0.1 update!
-New secondary logo added.(Thanks to santa coma)



Initial version

uploaded July 16, 2022

rybetasz uploaded initial version. The original file is 27.78 MB.