Need for Speed Most Wanted Showroom
Brand60's BMW M3 GTR (E46)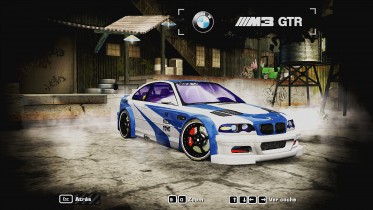 Owner: Brand60Brand60's garage
Viewed: 699 times
Share this showroom:Click to copy URL
BMW M3 GTR appears in Need for Speed: Most Wanted and is available from the beginning of the career mode.
The career partially revolves around the M3 GTR as it is the player's car at the beginning of the game until it is sabotaged. The car will be returned to the player after defeating Blacklist racer #1 - Razor - which also unlocks it for Quick Race play.
The M3 GTR can also be driven in the hidden Challenge Series event #69 'Burger King Challenge' which unlocks Junkman parts for use in the My Cars menu.
The M3 GTR features strong handling capabilities and reaches a high top speed of 242 mph (389 km/h). It receives a mediocre speed boost from its nitrous injection.