Need for Speed Underground 2 Downloads
1997 Volvo 850R Estate [ADDON]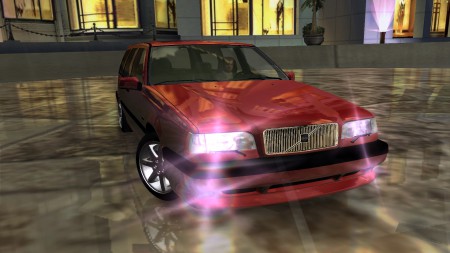 Version Underground 2
Brand Volvo
This car replaces None (Addon car)
1997 Volvo 850R
Special Thanks to:
-Forza 4 Studio: Ernegien
-S.S.T® and AJ_Lethal: for helping me in the process of conversion of this mod
-3D Model, textures: DMN (gamemodels.ru) for ripping the 3D model from Forza Motorsport 4
-Manufacturer logo: Henry_Allen05 for making the Volvo logo
-NFSU2 ModTools, NFS-TexEd 1.7 and NFS-CfgEd-1.0: nfsu360
-ZModeler 2.2.5, ZModeler 2.2.1 and ZModeler 1.07b: Oleg
-Labrune v1.0.0.402: nlgzrgn
-Binary v1.0.4: MaxHwoy
Tools used:
-Forza 4 Studio
-ZModeler 2.2.5
-ZModeler 2.2.1
-ZModeler 1.07b
-NFSU2 ModTools v1.2
-NFS-CfgEd 1.0
-NFS-TexEd 1.7
-Binary v1.0.4
-Labrune x1.0.0.402
-Adobe Photoshop CS6
Features:
-Modified performance: In its stock form this car has a similar power, torque and gearbox as the real car.
-Debug included in the RAR so you can make a vinyl for this car (but I don't know how to make a Vinyls.bin for an addon XD).
Can be customized:
-Windows tint
-Color
-Rims
-3 Modified front bumpers
-Rollcage (choose this in the skirts section)
-1 modified spoiler (choose this in the spoilers section)
Replaces: Nothing! It's an addon
All the instructions to install this mod in the "INSTALLATION README!!!.txt"
NOTE: If you're going to download and install this mod be sure you have installed the latest versions of NFS Underground 2 Unlimiter,NFSU2 Extra Options,NFSU2 Car Sound Tuner andGlobal Memory File Fixed for a better experience.
NEXT RELEASES:
-1967 Shelby "Gone in 60 seconds" GT500 Eleanor [FINAL EDITION] (Yes, let's make the final update of this mod once and for all… And maybe making it an addon, stay tuned)
-1998 Nissan Pathfinder R50
-2010 Mercedes-Benz E63 AMG
and maybe more…
Follow my colleagues and me in our blog and Facebook page:
https://nfsprolatammods.blogspot.com/