Need for Speed Underground 2 Downloads
Celica Supra (MA67) [Add-on]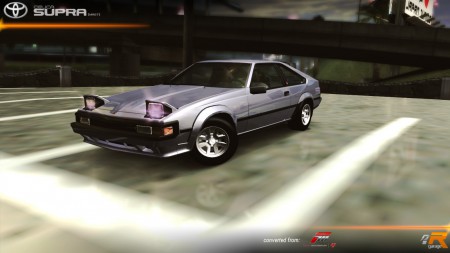 Added On September 16, 2020
Version Underground 2
Brand Toyota
This car replaces None (Addon car)
converted from Forza 4
Features:
Can be customized with:

Bumpers and skirts
Wide body kits
Spoilers (includes 2 add-on spoilers -paintable/cf stock and cf Forza wing-)
Hoods (convert to carbon fiber)
Rollcage (under "Roof Scoops", paintable)
Headlights and tailights
Exhausts
Rims
Paint
Vinyls (custom body vinyl and debug map included)
Decals (including hood* decals)
Cabin neon*
Window tint
N20 purge
Custom added parts (appliable via debug car customization - needs Extra Options to use it):

Driver model (DAMAGE_RIGHT slot - 5 styles)
Seats (DAMAGE_TOP slot - 4 styles)


*needs latest version of nlgzrgn's Extra Options to work
Other features:

Custom performance
Sounds from NFSPS (thanks to RaTT for the converted PS sound pack)
Installation:
Make sure you have NFSU2 Unlimiter and Car Sound Tuner installed
Extract the zip contents to a folder
In Binary 2.2.0 or greater, click on "Launch Binary For Users"(left big button) and open the Toyota Celica Supra (MA67) [Add-on] Installer.end file. Follow the on-screen instructions and save when prompted.
Used tools:
ZModeler 1.07b | GIMP | NFS CarToolkit 3.0 | CV Injector | NFS-TexEd | Binary 2.2.0
Copyrights/permissions:
If you would like to modify and/or distribute this mod, please:
keep this readme file without any alterations whatsoever (in case of just sharing this mod around)
give me proper credit (AJ_Lethal) for creating the mod
Seriously, respecting those conditions is not hard at all. Unless you're terminally dumb or a shameless, talentless hack.