Need for Speed Underground 2 Downloads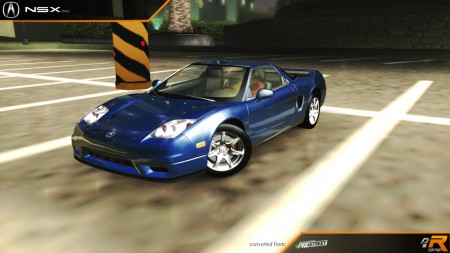 Version Underground 2
Brand Acura
This car replaces None (Addon car)
converted from NFSPS
Features:
Can be customized with:

Bumpers and skirts
Wide body kits
Spoilers
Hoods
Roll cages (under "Roof Scoops", paintable)
Mirrors
Exhaust tips
Rims
Paint (including engine paint)
Vinyls (includes debug map)
Decals (including hood decals*)
Cabin neon*
Nitrous purge

*needs latest version of nlgzrgn's Extra Options to work

Other features:

Custom driver model (werewolf girl)
Custom performance
Sounds from NFSMW and NFSPS (thanks to RaTT for the converted PS sound pack)
Installation (make backups first!):
Make sure you have NFSU2 Unlimiter and Car Sound Tuner installed
Move the CARS and scripts folders into your NFSU2 folder
With Binary, import the Acura NSX (NA2) [Add-on].end file by going to Main > Import > Endscript, open the file and save.
To add the secondary logo, you can either:

Open the FrontEnd\FrontB.lzc file with NFS-TexEd 1.7, go to Texture > Add, open the SECONDARY_LOGO_NSXNA2.dds file and save.
-or-
With Binary, open the TPKBlocks node, go to 2_GLOBAL subnode, double click on any of the items of the list, click on Add Texture, open the SECONDARY_LOGO_NSXNA2.dds file, click OK and save.

To add the car name, open the .bin file that corresponds with your game's language of your game LANGUAGES folder with Labrune, go to File > Import > Text and open the string.txt file and save
To use the car, you'll need to create a new save game
Used tools:
ZModeler 1.07b | GIMP | NFS-CarToolkit 3.0 | NFS-TexEd | Binary
Copyrights/permissions:
If you would like to modify and/or distribute this mod, please:
keep this readme file without any alterations whatsoever (in case of just sharing this mod around)
give me proper credit (AJ_Lethal) for creating the mod
Seriously, respecting those conditions is not hard at all. Unless you're terminally dumb or a shameless, talentless hack.