Need for Speed Underground Downloads
Savegame - All unique parts (Visuals)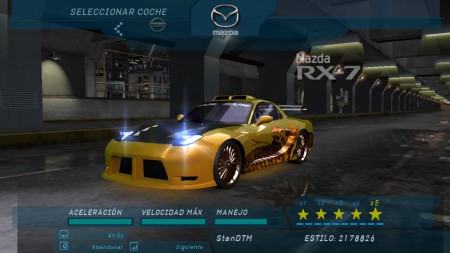 Added On September 1, 2021
Hi there.
This is a savegame with all unique upgrades of Samantha:
3 Spoilers
3 Hoods
2 Body kits
5 Wheels
10 Vinyls
And a RX-7 with all TJ's maximum performance upgrades.
Installation:
1.- Download and unzip the file.
2.- Open the game and create a new profile with "StanDTM" name on it, then close the game.
3.- Copy or move the folder to "C:\ProgramData" and replace all.
4.- Open the game, load the profile and enjoy.
Note: If you can't find "ProgramData" folder, check the box "Show hidden files, folders, and drives" at "Organize" -> "Folder and search options".
Note 2: Some cars don't have the Dual GT Spoiler, it's a bug or something with the game.

I'm not active in NFSCars anymore 'cause my account was stolen a time ago and I couldn't get it back, so here I am.