Need for Speed Downloads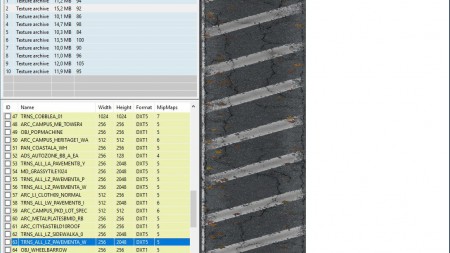 Views 5,727
Downloads 2,138
Version Underground
File Size 193.66 KB
NFS-TexEd - it is a texture extractor, importer and viewer.
The following games are supported:
- Need For Speed: Underground
- Need For Speed: Underground 2
- Need For Speed: Most Wanted (PC and read only XBox360)
- Need For Speed: Carbon
- Need For Speed: ProStreet
- Need For Speed: Undercover
- Need For Speed: World Online
New features and fixes in Beta 1.1:
NFS Most Wanted - added support of XBox360 version (read only)
now it is possible to import textures with higher resolution for all files (for example FrontB.lzc) except STREAM.
supports files created by all NFS-Texture Compilers
improving the P8 format support
automatic texture conversion supports both colour spaces: RGB and SRGB. Previously SRGB causes the following error: "Failed to decompress the texture. Error code: 0x80070057"
exporting texture files with the same name will not overwrite existing files. Suffix will be added as follows: example (1).dds, example (2).dds
cache file (.texed_cache) will be no longer recreated after modification of STREAM file
the application window was not visible due to incorrect settings
importing textures with a different resolution caused the game to crash
game will no longer crash after modification of DYNTEX.BIN file, except NFS Underground
no flickering when resizing the texture preview
the app will not crash when you open not supported file
many minor fixes and improvements
Known bugs:
the tool doesn't support STREAML2RA.BUN from XBox360 version of NFS Most Wanted
NOTICE:
Please ensure you backup all the files you edit before saving them.
Legal
Some Rights Reserved. Release / distribute as you wish, as long as no modifications are made to any part of this package without prior permission, and you don't profit from any such distribution.