Need for Speed Pro Street Downloads
Need for Memes: PogStreet [The Official Release]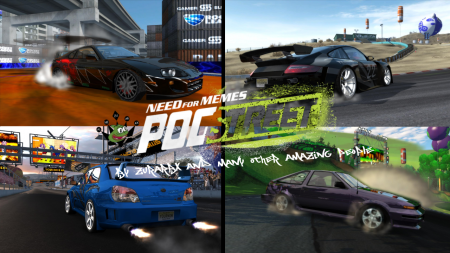 Added On September 3, 2021
The very first meme-focused overhaul for Need for Speed: ProStreet! This project has been in development since February of 2021, and is finally released to the public!
The team behind this mod consists of both new modders and veterans. Developers like AlbinoBuffalo80 and Neon have had their hands in several iconic projects, ranging from the Need for Speed Most Wanted: Pepega Edition mod to Need for Speed Carbon: Battle Royale. Developers like Axton and Mati the Mudkip have been in the business for years also, with Axton working previously on custom vinyls and Mati lending his work to modders looking for ways to add legendary Burnout vehicles to their games.
If you have any trouble installing the mod AFTER READING THE README, join the Discord server! Link is included in the readme.

Developers:
ZuraRBX - Lead Dev (track design, frontend, language files, every other car besides vanilla stuff, some liveries)
Neon - Car Dev/Vlted (Made the Uberschall 8, Tempesta, and Revenge Racer, and did the vlt work for the uberschall 8)
AlbinoBuffalo80 - Car Dev/Vlted (Made the Hot Wheels models, Mach 6, and Cirno Roomba)
Aristotel2003 - GFX/Art Dev (race day icons, other graphics/textures, screen anim textures, Ryan Cooper's new livery, GT4 GT livery, as well as helped designed the road signs in Mute City, pretty much without him this mod wouldn't exist)
AXTØN - Livery Designer (made the new showdown king livery and many others, even made my livery on my GT3RS!)
Mati The Mudkip - Car Dev (made the Burnout 3, Revenge, and Burnin' Rubber series cars!)
Xrayxout - Ideas/Programming (writing the installer as well as gave awesome ideas to the project!)
Beta Testers:
Pritz8
Emosen
God Foot
MacNCheese
Awesome people who lent their work to the project:
Ti-Sonic (LFA, Clio V6)
YochiThMaster (Lada Samara)
Woha/Team Pepega (Pepe Scooter)
!Pritz8 (Concept Two)
Aero_ (hd reflections mod)
nlgzrgn (extra options mod)
Xanvier (multifix mod)
SpazJR61 (RoadRunner fixes)
Kai M (Mclaren F1 fixes) (check out his youtube! he documented unused engine sounds, it's really interesting) :o
Andreik - 350z livery
KenjaMago - S3 livery
Special Thanks:
KuruHS (for being a good showdown king)
The Models Resource
The Sprites Resource
GameModels.ru
Reshade development team
Aceofsquares3 (pretty much teaching me cartoolkit/blender)
Team Pepega (you guys are my biggest inspiration, yall are kings, good luck on your next project!)
...and you guys, for enjoying what I've created