Need for Speed Pro Street Downloads
1993 Lancia Delta HF Integrale (Model Fix)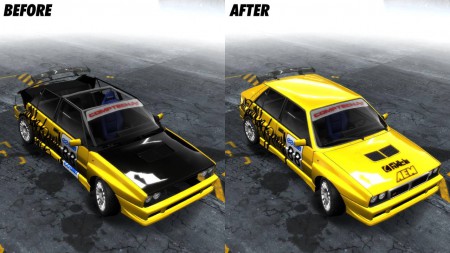 Added On September 12, 2021
Views 1,660
Downloads 108
This car replaces Lancia Delta HF Integrale Evoluzione (DELTA)
This fix was made by YochiThMaster333 aka Eevee (me).
Fixed features:
Non-wide bodykits now don't make car body fully disappear
Fixed texture on custom hoods (it originally used SKIN1 texture, but since NFS ProStreet uses different car paint texture and shader, SKIN1 turns into black plain texture)
All tuning parts now have fixed car paint mapping, so the vinyls won't be misplaced anymore
All tuning parts now don't have lighter texture than the car body itself
Grill Texture UV was fixed (note: the new texture was used due to NFS ProStreet having a problem with tiled textures)
Now it's possible to undo roll cage customization
How to install:
Extract DELTA folder to NFSPS game directory/CARS
Run the game and check the customization. If vinyls and bodykits on Lancia Delta look properly as they should, then you did all right.
FAQ:
Q: What is game directory?
A: That's the folder where your NFSPS installed
Uploaded on:
nfsaddons.com (this site)
nfscars.net
nfsmods.xyz
Please don't reupload to these sites.
Thanks to:
nfsu360 for his NFS-CarToolkit
Oleg M. for Zmodeler