Need for Speed Most Wanted Downloads
NFS MOST WANTED RETEX Version 1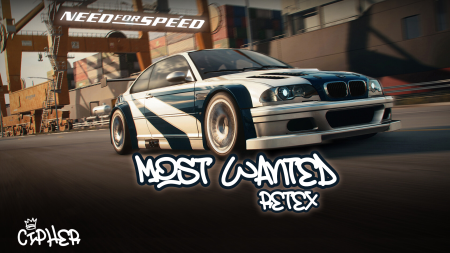 Added On February 23, 2023
Views 2,652
Downloads 451
File updated on: February 26, 2023
[DESCRIPTION]
𝙉𝙚𝙚𝙙 𝙛𝙤𝙧 𝙎𝙥𝙚𝙚𝙙 𝙈𝙤𝙨𝙩 𝙒𝙖𝙣𝙩𝙚𝙙 𝙍𝙀𝙏𝙀𝙓 𝙞𝙨 𝙖 𝙛𝙖𝙣-𝙢𝙖𝙙𝙚 𝙢𝙤𝙙𝙞𝙛𝙞𝙘𝙖𝙩𝙞𝙤𝙣 𝙛𝙤𝙧 𝙩𝙝𝙚 𝙥𝙤𝙥𝙪𝙡𝙖𝙧 𝙧𝙖𝙘𝙞𝙣𝙜 𝙜𝙖𝙢𝙚 "𝙉𝙚𝙚𝙙 𝙛𝙤𝙧 𝙎𝙥𝙚𝙚𝙙 𝙈𝙤𝙨𝙩 𝙒𝙖𝙣𝙩𝙚𝙙" 𝙩𝙝𝙖𝙩 𝙖𝙞𝙢𝙨 𝙩𝙤 𝙚𝙣𝙝𝙖𝙣𝙘𝙚 𝙩𝙝𝙚 𝙜𝙖𝙢𝙚'𝙨 𝙜𝙧𝙖𝙥𝙝𝙞𝙘𝙨 𝙗𝙮 𝙧𝙚𝙥𝙡𝙖𝙘𝙞𝙣𝙜 𝙩𝙝𝙚 𝙤𝙧𝙞𝙜𝙞𝙣𝙖𝙡 𝙩𝙚𝙭𝙩𝙪𝙧𝙚𝙨 𝙬𝙞𝙩𝙝 𝙝𝙞𝙜𝙝-𝙦𝙪𝙖𝙡𝙞𝙩𝙮, 𝙝𝙞𝙜𝙝-𝙧𝙚𝙨𝙤𝙡𝙪𝙩𝙞𝙤𝙣 𝙩𝙚𝙭𝙩𝙪𝙧𝙚𝙨. 𝙏𝙝𝙞𝙨 𝙢𝙤𝙙 𝙞𝙨 𝙤𝙛𝙩𝙚𝙣 𝙧𝙚𝙛𝙚𝙧𝙧𝙚𝙙 𝙩𝙤 𝙖𝙨 𝙖 𝙧𝙚-𝙩𝙚𝙭𝙩𝙪𝙧𝙚𝙙 𝙥𝙖𝙘𝙠 𝙤𝙧 𝙢𝙤𝙙 𝙨𝙞𝙣𝙘𝙚 𝙞𝙩 𝙧𝙚𝙥𝙡𝙖𝙘𝙚𝙨 𝙩𝙝𝙚 𝙜𝙖𝙢𝙚'𝙨 𝙩𝙚𝙭𝙩𝙪𝙧𝙚𝙨 𝙬𝙞𝙩𝙝 𝙣𝙚𝙬 𝙤𝙣𝙚𝙨.
𝙏𝙝𝙚 𝙢𝙤𝙙 𝙛𝙚𝙖𝙩𝙪𝙧𝙚𝙨 𝙖 𝙫𝙖𝙧𝙞𝙚𝙩𝙮 𝙤𝙛 𝙞𝙢𝙥𝙧𝙤𝙫𝙚𝙢𝙚𝙣𝙩𝙨, 𝙞𝙣𝙘𝙡𝙪𝙙𝙞𝙣𝙜 𝙣𝙚𝙬 𝙩𝙚𝙭𝙩𝙪𝙧𝙚𝙨 𝙛𝙤𝙧 𝙧𝙤𝙖𝙙𝙨, 𝙗𝙪𝙞𝙡𝙙𝙞𝙣𝙜𝙨, 𝙫𝙚𝙝𝙞𝙘𝙡𝙚𝙨, 𝙖𝙣𝙙 𝙚𝙣𝙫𝙞𝙧𝙤𝙣𝙢𝙚𝙣𝙩𝙖𝙡 𝙤𝙗𝙟𝙚𝙘𝙩𝙨, 𝙨𝙪𝙘𝙝 𝙖𝙨 𝙩𝙧𝙚𝙚𝙨 𝙖𝙣𝙙 𝙛𝙤𝙡𝙞𝙖𝙜𝙚. 𝙏𝙝𝙚 𝙣𝙚𝙬 𝙩𝙚𝙭𝙩𝙪𝙧𝙚𝙨 𝙖𝙧𝙚 𝙙𝙚𝙨𝙞𝙜𝙣𝙚𝙙 𝙩𝙤 𝙗𝙚 𝙢𝙤𝙧𝙚 𝙙𝙚𝙩𝙖𝙞𝙡𝙚𝙙 𝙖𝙣𝙙 𝙧𝙚𝙖𝙡𝙞𝙨𝙩𝙞𝙘, 𝙜𝙞𝙫𝙞𝙣𝙜 𝙩𝙝𝙚 𝙜𝙖𝙢𝙚 𝙖 𝙛𝙧𝙚𝙨𝙝 𝙡𝙤𝙤𝙠 𝙖𝙣𝙙 𝙛𝙚𝙚𝙡.
𝙊𝙫𝙚𝙧𝙖𝙡𝙡, 𝙩𝙝𝙚 𝙉𝙚𝙚𝙙 𝙛𝙤𝙧 𝙎𝙥𝙚𝙚𝙙 𝙈𝙤𝙨𝙩 𝙒𝙖𝙣𝙩𝙚𝙙 𝙍𝙀𝙏𝙀𝙓 𝙢𝙤𝙙 𝙞𝙨 𝙖𝙣 𝙚𝙭𝙘𝙚𝙡𝙡𝙚𝙣𝙩 𝙬𝙖𝙮 𝙩𝙤 𝙗𝙧𝙚𝙖𝙩𝙝𝙚 𝙣𝙚𝙬 𝙡𝙞𝙛𝙚 𝙞𝙣𝙩𝙤 𝙖𝙣 𝙖𝙡𝙧𝙚𝙖𝙙𝙮 𝙥𝙤𝙥𝙪𝙡𝙖𝙧 𝙧𝙖𝙘𝙞𝙣𝙜 𝙜𝙖𝙢𝙚 𝙖𝙣𝙙 𝙥𝙧𝙤𝙫𝙞𝙙𝙚𝙨 𝙥𝙡𝙖𝙮𝙚𝙧𝙨 𝙬𝙞𝙩𝙝 𝙖 𝙢𝙤𝙧𝙚 𝙞𝙢𝙢𝙚𝙧𝙨𝙞𝙫𝙚 𝙖𝙣𝙙 𝙫𝙞𝙨𝙪𝙖𝙡𝙡𝙮 𝙖𝙥𝙥𝙚𝙖𝙡𝙞𝙣𝙜 𝙜𝙖𝙢𝙞𝙣𝙜 𝙚𝙭𝙥𝙚𝙧𝙞𝙚𝙣𝙘𝙚.

Version 1
→New Tunnel Textures
→New Roads
→New Red Bridges and Pillars
→New Grass / Dirt Path / Golf Grass
→Green Trees and Vegetation
→Road Barriers and Ground Textures
And lots coming in the future, Stay Tuned!
( You may see some new Wall Textures which are incomplete ... Its work in Progress )
Supported version [ Rework | Redux | Rg-Graphics ]
[CREDIT]
Tester: SAINT RAID and KNIGHT HUNTER
Special thanks to OPEX RAH AKA (FISCAL)
[ THIS TEXTURE PACK IS ONLY FOR THE MAIN VERSION, DO NOT INSTALL THIS ON THE LITE VERSION GAME, WAIT FOR THE LITE VERSION UPDATE ]
[ BEFORE YOU INSTALL ANYTHING MAKE SURE TO BACK UP YOUR CURRENT NEXT-GEN GRAPHICS FOLDER AND TRACKS\STREAML2RA.BUN ]
[ INSTALLATION ]
For those who are playing Vanilla game or Black Edition install Retouch Graphics:
NFS Black Edition with X360 stuff
4GB Patch
Retouch Graphics https://nfsmods.xyz/mod/3232
and other Basic Mods
Once done with Retouch Graphics, Follow my steps given inside the Readme

All steps are given inside the Readme

[ OPTIONAL]
1. Change the loading screen (SPLASH SCREEN) to whatever you want ... just rename your image with ( WS_MWSPLASHBACK ) make sure to resize the image to 2048x2048 and save it .dds format use paint.net to resize and save, I have included a few options.
2. If you want to change NEON Barrier do it inside SFX_BARRIERS FOLDER just copy/paste and replace
3. My Reshade Preset PROJECT_AUTO.ini
(YOU CAN CHECK THE IMAGES FOLDER)
[BUGS]
Nothing minor fps drops (depends on how your PC/Laptop can handle it)
If there are any bugs you can contact me through discord
If you have a game crash moment(very less chances or you got a PoTaTo PC).
Discord Id: CiPHER#9932
or you can always find me on Prestige Mods Server
[Distribution]
You are NOT allowed to distribute or reupload this mod without my permission.
[UPDATES]
Version 2
Coming Soon! Stay Tuned.
Version 1.1

uploaded February 26, 2023

C i P H E R uploaded a new version. The new file is 461 B.

Small change for Dirt Path installation
Don't worry you won't need to download the whole thing again
just download the required files from 2nd link and follow the readme
Thank You


Initial version

uploaded February 23, 2023

C i P H E R uploaded initial version. The original file is 266 B.