Need for Speed Most Wanted Downloads
NFSMW Sound Pack Compatibility for Aftrmrket Exotics' cars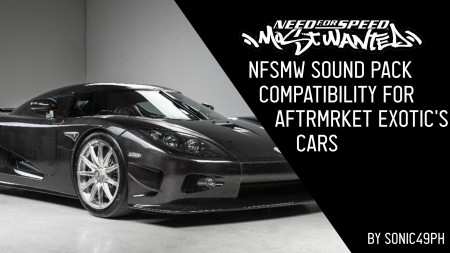 Added On November 17, 2022
Kyria's NFSMW Sound Pack Compatibility for Aftrmrket Exotics' cars
This modification makes Aftrmrket' car mods have compatibility with Kyria's NFSMW Sound Pack.
Requires NFS-VltEd 4.6 to install this mod.
https://nfs-tools.blogspot.com/2019/02/nfs-vlted-v46-released.html
Here is the link to the said mod if you don't have one:
https://nfsmods.xyz/mod/3976
How to use?
1. Open NFS-VltEd as Admin.
2. Open the folder where you put NFSMW.
3. Import (Ctrl+I) the Modscript NFSMW_Sound_Pack_Compatibility_for_Aftrmrket_Exotics_car_mods.nfsms.
4. Select your installed car mods and hit "Install".
5. Save.
6. Make a new save game.
There is a manual installer for Attribulator users.
Known issues:
As far as I know, there's no issues in this mod. Please inform me in Discord (HellraiserR49PH#0559)
Q: How did you come up with this mod?
A: I was actually fascinated by the Kyria's NFSMW Sound Pack and I installed that mod. When I was playing, there was a problem with other cars not having an engine sound, so I made this mod for people who are using the said mod.
Q: Why sounds not work?
A: You haven't installed Kyria's NFSMW Sound Pack. There is a link above.
Credits:
senpaidarken (a.k.a. Kyriana Crown) - Kyria's NFSMW Sound Pack
Aftrmrket Exotics (a.k.a. InfinityMain) - Various car mods made by himself
Sonic49PH (a.k.a. HellraiserR49PH) (me) - Modscript
Ask the mod author of the NFSMW Sound Pack first if you are making a modpack with the said mod.
This script mod is free to use.
Screenshot of the Day
Dec 09, 2022