Need for Speed Most Wanted Downloads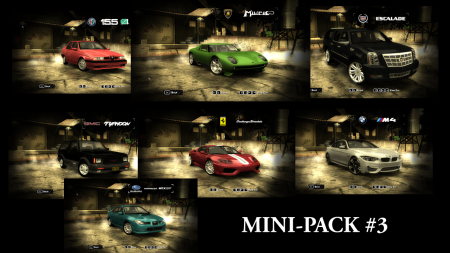 Added On October 28, 2020
Views 6,917
Downloads 1,232
This is my next addon, and the third mini pack, this time with 7 new vehicles, because the Bugatti Veyron (part of the mini-pack #2) is going to be eliminated of the ADDON CAR PACK!! However, this pack have a BONUS car which replace the Veyron. Therefore, here is the list of the cars (one of them was requested).
What's included:
BMW M4 (requested by @Said_ahmad).
Ferrari 360 Challenge Stradale.
Subaru Impreza WRX STI (2006).
Alfa Romeo 155 Q4
Cadillac Escalade ESV (2012)
GMC Typhoon
BONUS CAR: Lamborghini Miura Concept (replace the Veyron)!
This third mini-pack is part of the ADDON CAR PACK #1, such as the Honda Civic CX, the Sedan 1200, the Chevy Corvette Stingray, the mini-pack #1 and the latest mini pack #", the pack will be available in DECEMBER!! So far we have 15 cars!! expect more in the future or more mini-packs!!!

I announce the MINI PACK #5 SUPERCARS edition!!!(don't forget the HatchBack edition, will be available on NOVEMBER), stay tuned for more details.
What's next:
Porsche Cayenne Turbo (2012) (NOT part of the ADDON CAR PACK).
Audi RS2 Avant. (part of the mini-pack #4)
Subaru Impreza WRX STI HB (part of the mini-pack HB edition) (requested by @XaRaider927).
Renault Alpine. (part of the mini-pack #4)
Suzuki SX4 Sportback (part of the mini-pack HB edition).
Maserati Quattroporte. (part of the mini-pack #4)
Audi S3 (part of the mini-pack HB edition).
HUMMER H1 Alpha (part of the mini-pack #4)
Lamborghini Murcielago LP640. (part of the mini-pack SS edition)