Need for Speed Most Wanted Downloads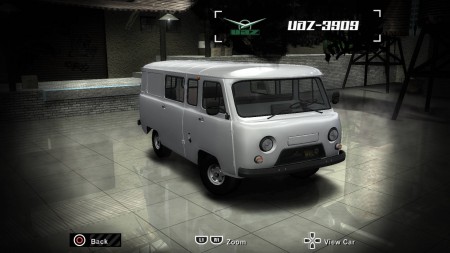 Added On February 7, 2021
Views 1,483
Downloads 266
This car replaces None (Addon car)
This car was converted from Polniy Privod 2 and NFS ProStreet by YochiThMaster333 aka Eevee (me).
Replaces (ModLoader version): Volkswagen Golf GTI
Tuning:
Bodykits
Spoilers
Rims
Roof Scoops
Brakes
Headlights
Taillights
Attachments (in order: Roof Lights, Roll Cage)
Performance
Paint
Vinyls
Rim Paint
Window Tint
Decals
Numbers
Licenseplates
Features:
Working brakelights
Driver from NFS Undercover
Available at game start
Costs 27500 in career mode
Known bugs:
How to install:
Don't use both ModLoader and Addon version at same time, as both are incompatible with each other.
ModLoader version:
Download and install MW 1.3 Patch
Download and install NFSMW ModLoader
Extract ADDONS folder to game directory
Add or edit shortcut. In target box add "-mod" at the end without quotes
Run the game using shortcut and choose Volkswagen Golf GTI. UAZ 3909 will be visible instead of Volkswagen Golf GTI.
Addon version:
Download and install NFSMW Unlimiter
Extract UAZ3909 folder into NFSMW game directory/CARS
Run Binary v2.2.0 as an administrator, click on red (User Mode) icon, then pick UAZ3909.end and look for NFSMW game directory (ignore the errors if there are any)
Run NFS-VltEd, click File - Open and choose NFSMW game directory, then click File - Import - ModScript and pick UAZ3909.nfsms. Save.
Open NFSMW game directory/scripts/UnlimiterData/_CarManufacturers.ini and add 190 = UAZ. Save.
Run the game and create a new save game. If the car appears visible properly, then you did all right.
FAQ:
Q: What is game directory?
A: That's the folder where your NFSMW installed
Uploaded on:
nfsaddons.com (this site)
nfscars.net
nfsmods.xyz
Please don't reupload to these sites.
Thanks to:
nfsu360 for his NFS-CarToolkit
Oleg M. for Zmodeler