Need for Speed Most Wanted Downloads
1986 Toyota AE86 Trueno Drift (Addon)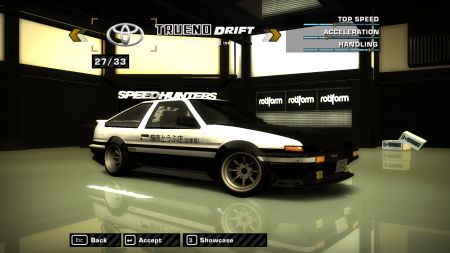 Views 18,756
Downloads 3,599
This car replaces None (Addon car)
Toyota AE86 Drift Version (Ed/Binary Addon)
----------------------------------------------
Original Model converted from Assetto Corsa by LM1992
Modloader Version (Replaces SL500) here: https://nfsaddons.com/downloads/nfsmw/cars/toyota/5066/toyota-toyota-ae86-drift-version.html
Customizations:
-Rims
-Bodykits (1 - Just to open the pop-up lights in the front)
-Rim Paint (Works only when aftermarket rims are bought)
-Gauges
Features:
-Medium High Detailed Exterior
-NFS Shift Driver
-HD Secondary Logo
Bugs and Errors:
You will get some errors during the modscript installation in VLTed. You can safely ignore these as they do not affect the car in any manner. I will try to fix this maybe in the coming future.
Other than that, if you get any other bug, please do comment.
Credits:
-LM1992 / BILL.O.JACK for the modloader version of the car
-AJ_Lethal for help with the modscript fixes
-nfsu360 for VLTed
-MWInside for Recompiler tools
-nlgzrgn for Ed The Car Dealer
-MaxHwoy for Binary
-----------------------------------------------------