Need for Speed Most Wanted Downloads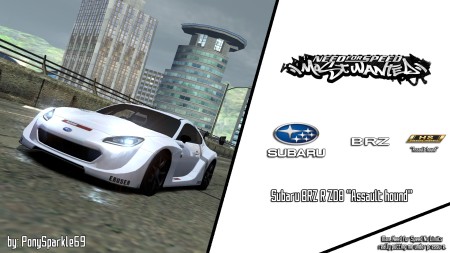 Views 2,624
Downloads 412
This car replaces None (Addon car)
This car made me wanna say "BAU BAU~!"
2022 Subaru BRZ R ZD8 "Assault hound"

Converted by: PonySparkle69
Converted from: Drift Spirits
Replaces: Nothing
---
Requires:
NFS VltEd 4.6
NFS TexEd 1.7
Binary (latest version)
NFSMW Unlimiter (4.0 to latest)
PonySparkle69's Custom Drivers Textures Mod
---
---
Features:
Realistic performance. (?)
Working brakelight texture.
Scratches.
HD and Updated Logos.
Real Racing 3 Driver Model.
Black Swordsman.

---
Customization and Tuning:
Parts:
Performance:
Engine
Transmission
Suspension
Nitrous
Tires
Brakes
Turbo / Supercharger
Visuals:
Rim Paint
Window Tint
Custom Gauges
Drivers (Real Racing 3 Driver, Kirito)
Neons
---
Read the readme file, for some instructions on how to do it.
---
Credits:
Adobe Photoshop CS6 for creating secondary logo, and editing the textures.
blender for parts and materials renaming, adding markers, adjusting the car model, ar...
nlgzrgn for NFSMW Unlimiter with Extra Customization.
nfsu360 for NFS Vlt-Ed 4.7, NFS Tex-Ed 1.7, NFS CarToolKit 3.1.
MaxHwoy for Binary 2.8.
PonySparkle69 for converting this car to MW.
KenjaMago for testing the mod, and updating the performance script.
GK-1nMoS9jsV (a.k.a. grazekai) for the ripped/rigged XPS character models.

Vee-Tec and BNE Entertainment for the mesh and textures of the car.