Need for Speed Most Wanted Downloads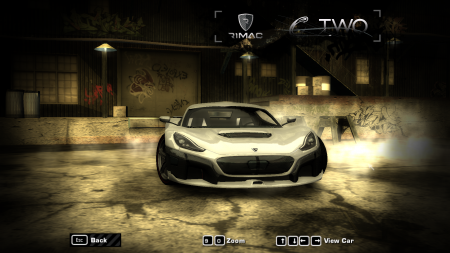 Added On January 26, 2021
Views 2,423
Downloads 458
File updated on: March 3, 2021
This car replaces None (Addon car)
Rimac Concept Two by Pritz8 and Raverz12345
My first addon here!
Modloader car by LM1992.
This mod replaces nothing, since it is an addon car.
Features:
-Electric Car Whine sound (Unlimiter Tweak)
-Working brakelights and headlights
-HD Manufacturer and Secondary logos
-NFS Shift Driver
Added uninstallation nfsms file
Can be customized with:
-Rims
-Paints (No vinyls or liveries as of now, may be coming soon)
-Performance Upgrades
-Gauges
Installation:
Both Ed as well as Binary installations available. I finally learned how to make a Binary installer lol.
Issues/Bugs: Nothing so far. Please tell me if you find one.
Credits:
The NFSAddons community for all the support.
LM1992 for the Modloader version of the car.
Raverz12345 for the help with nfsms file and string issues.
Binary by MaxHwoy
VltEd by nfsu360
ReCompiler by nfsu360
Ed The Car Dealer by nlgzrgn
DO NOT UPLOAD TO ANY OTHER SITE WITHOUT MY PERMISSION!
Version 1.2

uploaded March 3, 2021

Pritz8 uploaded a new version. The new file is 3.21 MB.

Added a Binary installer, organized the files, minor performance changes, preset color is now red instead of grey.

Version 1.1

uploaded January 26, 2021

Pritz8 uploaded a new version. The new file is 3.13 MB.

Edited the credits (Forgot to add LM1992, now I have)

Initial version

uploaded January 26, 2021

Pritz8, Raverz12345 uploaded initial version. The original file is 3.13 MB.