Need for Speed Most Wanted Downloads
Pagani Zonda HP Barchetta 2019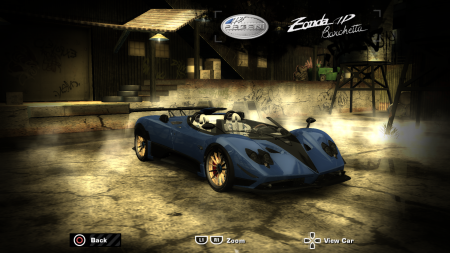 Added On December 16, 2021
Views 3,537
Downloads 661
This car replaces None (Addon car)
Converted from CSR2 by RIJU
Edited the Model by Me
Binary addon mod installation:
You have to download this before you can install this mod properly:
NFSMW Unlimiter:
https://nfsmods.xyz/mod/688
Binary (2.8.3 or higher):
https://nfsmods.xyz/mod/1638
Vlt-Ed 4.6:
https://nfs-tools.blogspot.com/2019/02/nfs-vlted-v46-released.html
The installation is simple.
1. Open your Binary & select "User Mode"
2. Choose "install.end"
3. Install to your NFS MW game
4. Save, but don't run your game yet
5. Open your Vlt-Ed and then import the "install.nfsms"
6. Again choose install
7. Close the window & then save it
8. Move the SOUND folder to ..\NFS Most Wanted
9. Done, Enjoy
Thx to RIJU for giving me permission for making this release on this mod
Neon for the HP2010 sound files as GIN