Need for Speed Most Wanted Downloads
Nissan Skyline 400R Sprint Concept (RV37)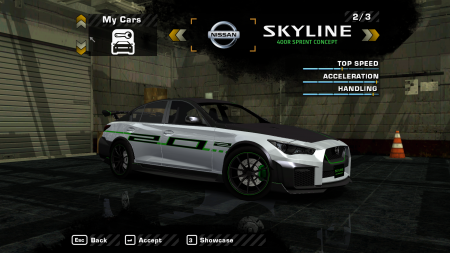 Added On November 19, 2021
Views 2,145
Downloads 374
File updated on: November 27, 2021
This car replaces None (Addon car)
This is the first mod I have made.
Maybe it still has some bugs.
model from:Drift Spirit
Custom Parts
-Spoiler
-rim
-paint
Cognitive bugs
-Headlights
-400RSPRINT.ini ForceLODA must be set to = 1 to see the body and wheels in the distance
Version 1.1

uploaded November 27, 2021

Keihin7 uploaded a new version. The new file is 1.01 MB.

-Add manufacturer's logo
-Fixed body size and windows (no more broken expressions instead)
-Changed the material of the rim
-Some script changes

Initial version

uploaded November 19, 2021

Keihin7 uploaded initial version. The original file is 1.01 MB.