Need for Speed Most Wanted Downloads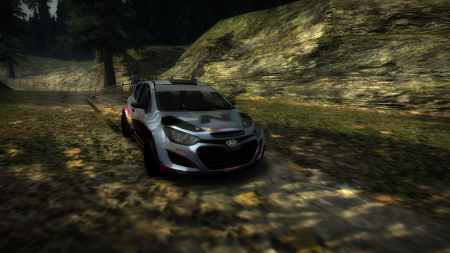 Views 1,175
Downloads 220
This car replaces None (Addon car)
"The Hyundai i20 WRC is a World Rally Car built by Hyundai for use from the 2014 World Rally Championship. It is based on the Hyundai i20 subcompact car, and was unveiled at the 2012 Paris Motor Show... The car made its first competitive appearance at the 2014 Rallye Monte Carlo."
Hyundai i20 WRC
By LRF Modding
Conversion to Addon by 89Overdrive
Requested by : Suryo
FEATURES:
- HD Manufacturer and Secondary Logo's
- Working BrakeLights
- Has 2 Liveries
Customization:
- Rims
- Color
- Performance
- Bodykits
Stats:
- Top Speed ~366 km/h / 227 mp/h
- 6-Speed Gearbox
- All Wheel Drive
Installation in the archive [Read Me.txt]
Credits:
LRF Modding for the mod
EA and Firemonkeys for the i20 WRC model and mesh
89Overdrive for the car conversion to an Addon
Raverz12345 for the Binary Files
nfsu360 for VltEd 4.6 and CarToolKit
nlgzrgn for Ed the Car Dealer
You're not allowed to steal or reupload to an another website without my permission and ff. author's permission
Modloader version here : https://www.nfsaddons.com/downloads/nfsmw/cars/hyundai/4721/hyundai-2013-hyundai-i20-wrc.html
Version 1.1

uploaded January 14, 2021

89OverdriveYT uploaded a new version. The new file is 9.15 MB.

V1.1 Changes:
Added a Binary Installation Method, thanks to Raverz12345!
Added a Unlimiter v3 Script.

Initial version

uploaded January 8, 2021

89OverdriveYT, LRF Modding uploaded initial version. The original file is 9.11 MB.