Need for Speed Most Wanted Downloads
Ford Crown Victoria Police Interceptor (PPV) (Addon)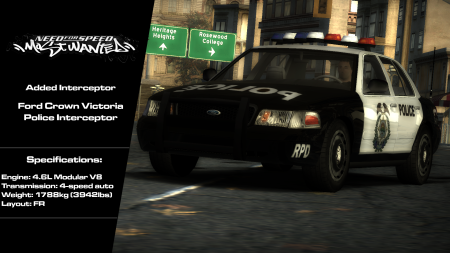 Views 2,383
Downloads 305
This car replaces None (Addon car)
The Ford Crown Victoria Police Interceptor (commonly known as CVPI), a 4-door mid-size sedan loved by police officers, security guards and law enforcement wannabes across the country. Now deployed to patrol and sweep the streets of Rosewood and Rockport.
Tuning:
-FENG: Default string error.
Features:
-Deploys on Heat 1 and 2
-Ed and Binary support
Known issues:
-Coffee and donuts are not included.
Minor issues:
-door may float
Installation:
-Included in the .zip
NOTE: This vehicle is available for use to customize and modify by other law enforcement agencies and can be driven by the general public*.
*Removing police equipment prior to the acquisition is recommended, Rockport Government Vehicle Auctions is not responsible for impersonation related charges.
Credits:
Texture help - YukkBaka and Red_Fire
01101000 01101001 00100000 01000001 01101001 01110010 01101111 01111010 00101110