Need for Speed Most Wanted Downloads
Ford Mustang Boss 429 '70 (ADDON)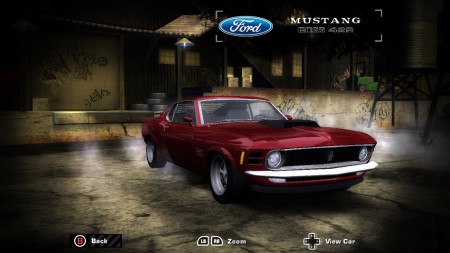 Views 6,990
Downloads 1,382
File updated on: December 2, 2020
This car replaces None (Addon car)
This mod replaces nothing, folder of the Addon car is BOSS429
If you want the ModLoader version of the car, get the 1970 Ford Mustang Boss 429 from ModLoader

'70 Ford Mustang Boss 429 converted from Forza Horizon
Features:
- New Performance Data

- Working brakelight texture
- NFS UC Driver
- HD Secondary Logo
- HQ cockpit
- Damage & scratches
Others:
- Added an uninstallation folder that has an nfsms file included for people to uninstall & install any addon cars they have while the endscript file was in the setup (this will also remove the files for endscript. Extract the files again manually in CARS Folder)
- 4-Gear Transmission in Stock & 5-Gear Transmission in Upgraded
- Red was set as Stock Color in ED Version while Blue was set as Stock color in Binary Version
It can be customized with:
- Bodykits (2 kits + 3 kits with liveries)
- Spoilers
- Rims
- Hoods (NFS World License Plates + Rollcage)
- Roof Scoops
- All performance upgrades
- Visuals such as paint, vinyls (512p), tints, decals, etc.

Installation:
It's in the Installation txt from Archive

Known bugs/issues: The Vinyls (and the national flags) are not that fit or has wrong debug in the car while others fit just well in race flags, tribals, unique vinyls, etc. I'll replace it with its own debug in later update. Other than that, tell me if you find the others
Updates are now placed in Changelogs below

Credits:
- Extracted & converted by Eclipse72rus. Also granted me to add his car mods in NFS MW BUT to credit him & provide the link for the ModLoader car.
- Performance by Eclipse72rus himself
- MW Recompiler by MWInside
- NFS-VltEd & NFS-TexEd (v1.7) by nfsu360
- NFS MW Unlimiter & Ed - The Car Dealer! by nlgzrgn
- Ant Renamer by antp.be
- BInary v2.4.0 by MaxHwoy
Version 1.2

uploaded December 2, 2020

Raverz12345 uploaded a new version. The new file is 6.01 MB.

The Addon car now supports Binary Compatibility & separated inside the folder of the file (ED & Binary Files). The CARS Folder was now located in Mod Folder & the Stock Color is Blue in Binary Version.

Version 1.1

uploaded October 14, 2020

Raverz12345 uploaded a new version. The new file is 6 MB.

Fixed Ride Height on ecar node (You can edit on its ecar node/rideheight field if it still has issues on it) and added few scripts in nfsms file for Boss 429 (The induction fields) so it will have no problems. Still needs to get the old debug replaced with its own debug. I should need help from users and authors (maybe..)

Initial version

uploaded October 5, 2020

Raverz12345, Eclipse 72rus uploaded initial version. The original file is 6 MB.