Need for Speed Most Wanted Downloads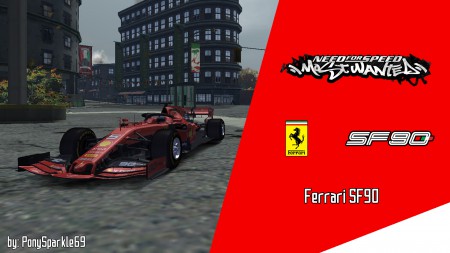 Views 19,623
Downloads 2,904
File updated on: May 13, 2022
This car replaces None (Addon car)
DISCLAIMER: This car isn't converted from Pepega Mod.

2019 Ferrari SF90
Converted from: Real Racing 3
Replaces: Nothing
Requires:
NFS VltEd 4.6
NFS TexEd 1.7
Binary (latest version)
NFSMW Unlimiter (3.0 to latest)

Features:
- Working brakelight texture
- Realistic performance / Performance data from Eclipse's Mercedes W10
- Scratches
- HERE COMES SEBASTIAN VETTEL!
- HE WON AT SPA, HE WINS IN MONZA!
- Second Child
- "Red Riot"
- Kirito? That's an interesting name... Huh, male?!
- Yup, that's me. You probably wondering how I ended up in this situation? It all started with...

Customization and Tuning:
- Rims
- Drivers
- Nitrous only
- Visuals (No numbers, #5, #16, #5 (AH), #16 (AH), #2, #16 (Kirishima), #7 (Kiriko) and #69)

Read the readme file, for some instructions on how to do it.

Credits:
- antrenamer for renaming multiple vinyls.
- Adobe Photoshop CS6 for arranging the driver textures.
- Blender for parts and materials renaming, adding position markers, adjusting the car position.
- nlgzrgn for NFSMW Unlimiter with Extra Customization.
- nfsu360 for NFS Vlt-Ed 4.7, NFS Tex-Ed 1.7, NFS CarToolKit 3.1.
- MaxHwoy for Binary 2.8.
- PonySparkle69 for converting this car to MW.
- GM25 and Firemonkeys for the mesh and textures of the car.
- grazekai and DatKofGuy for the ripped XPS models.
- Eclipse 72rus for the performance script of the Mercedes W10 and the driver model.
Version 1.1

uploaded May 13, 2022

PonySparkle69 uploaded a new version. The new file is 21.98 MB.

- Little tweak on the car model height

Initial version

uploaded May 2, 2022

PonySparkle69 uploaded initial version. The original file is 21.94 MB.