Need for Speed Most Wanted Downloads
2007 Ferrari F430 Scuderia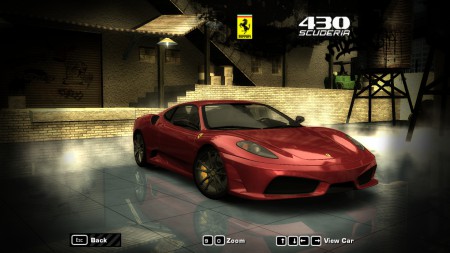 Views 14,888
Downloads 2,078
This car replaces None (Addon car)
2007 Ferrari F430 Scuderia
This car is converted from NFS Shift, Forza Horizon 4, NFS Heat
Can be customized with:
- Performance
- Bodykits
- Spoilers(+ new spoilers in Tuner and Sport categories)
- Visuals
- Rims(+ new in 5Zigen FN01R 17'-19'; 5Zigen 5ZR 17'-19')
Features:
- NFS UC Driver model
- Working brakelight texture
- LOD parts
- Scratches
- New performance data
INSTALLATION
To make your add-on cars work properly, you will need NFS MW Unlimiter script:
https://nfsmods.xyz/mod/688
1) Extract all content of the archive;
2) Download and unpack Ed - The Car Dealer! (Https://nfsmods.xyz/mod/874);
3) Copy Config and Resources folders to the Ed - The Car Dealer! folder;
4) Run "Ed.exe" as administrator
4a) Press Ctrl+O or click Main > Open to select your game installation directory
4b) Unlock the game for modding (Tools> Unlock Game Files For Modding) if you use mods for the first time or have any issues
5) Now press Alt+A, click "Add Cars" button or click Tools > Add Cars from Config File(s).
5a) Ed now should do everything required to add the cars you want.
5b) If the "New cars added successfully." dialog appears, it means that Ed completed his job.
6) Download and install the latest version of NFS-VltEd (https://nfs-tools.blogspot.com/p/downloads.html), run and select your game installation directory if you use it first time (File-Open), then install required mod files(File-Import- Mod Script) and select Install.nfsms file. Click Install. Wait for installation to complete and save changes(File-Save). Close NFS-VltEd.
7) Run the game, create a new save game and enjoy your new car!
CREDITS
SMS/Playground Games/Ghost - mesh & textures
G.L. - Liberty Walk kit and spoiler, rim models from NFS Heat
eModder and the rest my friends - for help and tips
nfsu360 - for NFS ToolKit, NFS-VltED
nlgzrgn - Ed - The Car Dealer!
Oleg Melashenko - for ZModeler 1.0.7.& 2.2.5
Eclipse 72rus aka CorvetteZ06 - converting to NFS MW