Need for Speed Most Wanted Downloads
2018 BMW M5 [F90] (V2.0) [Replace | Addon]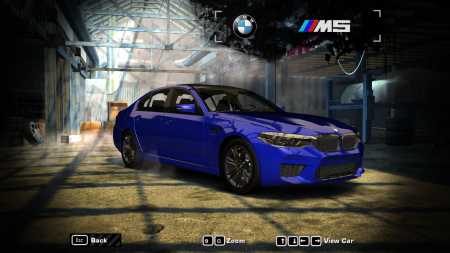 Views 14,952
Downloads 1,677
File updated on: August 26, 2021
This car replaces Cadillac CTS (CTS)
=====================================================================
2018 BMW M5 [F90] V2 - Need for Speed Most Wanted 2005 Conversion
Converted by Rauny_noobexX
Meshes and Textures from Forza Horizon 4
Attributes by LRF Modding
Modloader version replacing Cadillac CTS
=====================================================================
This is the remaking of my M5 which I have released last year - in a crippled state. I hope you guys enjoy it and in case you have any complaint or doubts about it, in you can use the comments section to do so. The present conversion may be subjected to updates.
Features:
Realistic Brakelight Textures
Realistic Headlight Textures
Criterion's Driver Model (Need for Speed Most Wanted 2012)
Performance Attributes
Bodykits:
Stock Bodykit - No visual modifications
Bodykit #1 - Minor changes that resembles the M5 Competition
Bodykit #2 - Paintjob #1
Bodykit #3 - Paintjob #2
Bodykit #4 - Paintjob #3
Bodykit #5 - Paintjob #4
========
Credits Goes to:
ArturoPlayerOne (Modding)
Raverz (Addon Version)
NFSU360 (Various Tools)
Arushan (ModLoader)
Oleg (Zmodeler)
Adobe (Photoshop)
Turn10 Studios (Meshes & Textures)
Criterion Games (Meshes & Textures)
LRF Modding (Performance Attributes)
Neon (A few ideas)
and Especially to:
Blender Foundation (Blender Software)
============
Note from the author: Yeah, yeah, I think my words for leaving moddings have been all lie, since I have posted several mods lately. I will continue posting conversions and etc. for those who are wondering. So, I am ditching my retirement as my time availability allow me - but don't expect anything above my capabilities.
Version 1.1

uploaded August 26, 2021

LRF Modding uploaded a new version. The new file is 9.98 MB.

Added Binary install option.

Initial version

uploaded August 22, 2021

Rauny_noobexX uploaded initial version. The original file is 6.66 MB.