Need for Speed Most Wanted Downloads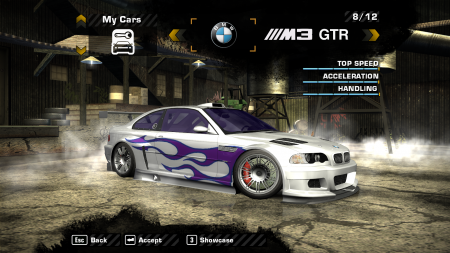 Added On January 19, 2021
Views 1,298
Downloads 272
This car replaces BMW M3 GTR (E46) (BMWM3GTRE46)
BMW M3 GTR Race version (E46)
Addon car mod by EllisRacing for NFS Most Wanted
Part of the BMW E46 Overhaul Mod Project for NFSMW
Current Version: 2.0
https://nfs-modding.ellisworkshop.com/bmw-e46-mod-project-need-for-speed-most-wanted
https://youtu.be/_K8VpUozFjA
https://discord.gg/EWNJKAB
---------------------
CHANGELOG
---------------------
v2.0 (1/19/21)
- Removed Modloader support
- Added back LOD parts
- Improved headlights & taillights
- Added correct hoods 31 & 32
- Added 3 wide body kits
v1.2 (3/12/19)
- Fixed missing driver model
- Added 1024x1024 recompiled vinyls
v1.2 (9/14/18)
- Fixed some issues with the model
v1.0 (11/1/17) - Initial release
---------------------
DESCRIPTION
---------------------
This mod adds full customization to the BMW M3 GTR Race version.
Notable features:
- Full customization options
- New kits
- New hoods (including missing hood style 31 & 32, with LODs)
- Spoilers, Roof scoops, decals, vinyls, etc customization fully functional
- Performance upgrades
- Improved performance/physics configuration
- Vanilla MW-level quality
- LOD models
- damage textures
VLT performance configuration:
- sets base performance similar to M3 GTR Strassenversion (but better)
- sets top (fully upgraded) performance to original M3 GTR race, with some minor improvements
- performance data is stored in their own nodes for bmwm3gtre46, just to safeguard against issues.
- uninstall script fully restores all bmwm3gtre46 related VLT settings back to vanilla
- Removes m3gtrcareerstart from frontend if you have exopts with "ShowAllCarsInFE" enabled, so you don't have 2 M3 GTR E46s in main menu.
- Sets Final M3 GTR (the one you win from Razor) to fully upgraded. Apparently this breaks compatibility with save games.
- Optionally makes car available in Car Lot (but still only unlockable after beating Razor).
-------------------
INSTALLATION
-------------------
You must have extra options but NOT the latest version (until its issue is fixed).
Use version 9.0.0 and enable ShowMoreCustomizationOptions.
Download link:
https://github.com/ExOptsTeam/NFSMWExOpts/releases/tag/v9.0.0.1337
VLT Script upgrades performance, but is not required.
If you use it, you will need a new save game. It will work with older saves if you have exopts installed, but Razor's M3 GTR will be much slower.
If you only care about cosmetic upgrades (body/visuals), then no need to use VLT script. You just won't be able to upgrade the performance on the car.
VltEd download link:
https://nfs-tools.blogspot.com/p/downloads.html
Binary can be used to install this car, but its only purpose is to copy the files for you, which you can also just do yourself.
Binary download link:
https://nfsmods.xyz/mod/1638
How to install:
(Optional) Install model files with Binary
a) Click the icon on the left to launch Binary for users
b) Select "Setup_BMWM3GTRE46_Binary.end" from this directory
c) Select your NFSMW installation directory
d) Select "Install" option
e) Save.
(Optional) Install upgradeable performance with VltEd
a) File -> Open -> select your NFSMW installation directory
b) File -> Import -> ModScript -> select "Setup_BMWM3GTRE46_VltEd.nfsms" from this directory
c) Select "Install" option
d) Save.
(Required if not using Binary) Copy the files manually
a) copy the two files from _setup/car to CARS/BMWM3GTRE46 inside your NFSMW installation directory.
-------------------
CREDITS
-------------------
Felixeur: Performance, help with VLT issues
LUNA, heyitsleo: Shift 2 Works kit (Kit 3)
GXP-10: ALMS body kit (Kit 2)
379Felipe: original M3 GTR E46 upgradeable performance mod which influenced this one
Version 2.0.1

uploaded January 21, 2021

EllisRacing uploaded a new version. The new file is 4.67 MB.

Quick fix: Forgot to include main.end for Binary install option.

Initial version

uploaded January 19, 2021

EllisRacing uploaded initial version. The original file is 4.67 MB.