Need for Speed Most Wanted Downloads
2022 Subaru BRZ (Modloader/Addon)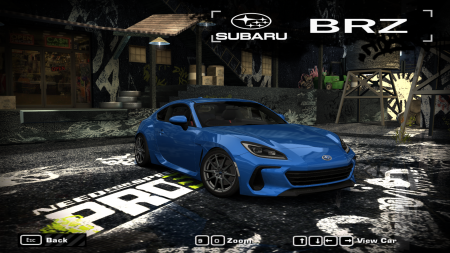 Views 23,995
Downloads 3,396
File updated on: August 20, 2022
This car replaces Chevrolet Cobalt SS (COBALTSS)
2022 Subaru BRZ
––––––––––––––––––––––––-
Model from Drift Spirits
Extracted by Thunderdrift
Converted by Thunderdrift
Performance by Hong10D
Addon version by Raverz12345
Retexture by Thunderdrift & IamJayChou
Screenshot by Thunderdrift
Replace Chevrolet Cobalt SS
––––––––––––––––––––––––-
Features:
-Modloader+Addon version (Binary only)
-No Extended Customization For Addon verison

-5 Bodykits include HKS & Pandem
-5 Spoliers are accessible under Hood
-Spoliers, rims, vinyls,roof scoops and decals can be customized
-HD secondary logo & manufacturer logos
-Realistic performance data
––––––––––––––––––––––––-
Special Thanks to:
Raverz12345 for Addon version
League Auto City & Jay Design
––––––––––––––––––––––––-
YOU'RE NOT ALLOWED TO UPLOAD THIS FILE INTO SOME OTHER WEBSITE WITHOUT PERMISSION!
Version 1.1

uploaded August 20, 2022

Thunderdrift uploaded a new version. The new file is 13.94 MB.

Fixed vinyls errors.

Initial version

uploaded August 18, 2022

Thunderdrift uploaded initial version. The original file is 13.94 MB.