Need for Speed Most Wanted Downloads
AM 310 Vanquish 2013 (ADDON)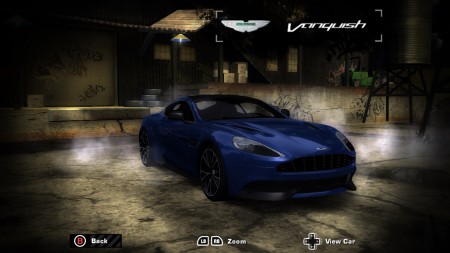 Added On September 21, 2020
Views 1,324
Downloads 251
Version Most Wanted
Brand Aston Martin
This car replaces None (Addon car)
This mod replaces nothing, the Folder name of the mod is VANQUISH
If you want the ModLoader version of the car, get the Aston Martin AM 310 Vanquish from ModLoader
If you want more mods, visit League Auto City for more car mods:

https://www.facebook.com/leagueautocity
Aston Martin AM 310 Vanquish converted from Forza Horizon
Features:
- Stock paintable bodykit in Vanilla Color Material
- 2 License Plates are accessible under Hood
- Realistic performance data
- Special anti-theft measures: a special chrome 3D model in interior and a special dds in Textures.bin
- 5 Special Colors in Unique Section (512p only)
Others:
- Added an Uninstallation folder that has an nfsms file included for people to uninstall & install any addon cars they have
- Good Top Speed & decent acceleration but lacks handling in high speed even with Junkman Parts used (unless you need to handle it well in races)
- Blue green color was set as Stock Color
- Real price of the car is 280000, unlocked after smoking Kaze's car
Installation:
It's in the Installation txt from Archive

Known bugs/issues: It seems like it doesn't affect its top speed with Junkman Parts used, I dunno why. Other than that, tell me if you find the others.
Credits:
- Extracted, converted & retexture by AC Lambor. Also granted me to add his car mods in NFS MW BUT to credit him & provide the link for the ModLoader car.
- Screenshots provided by PompousMWQ
- Performance by Typhoons

- MW Recompiler by MWInside
- NFS-VltEd & NFS-TexEd (v1.7 & v0.9.1) by nfsu360
- NFS MW Unlimiter & Ed - The Car Dealer! by nlgzrgn
- Ant Renamer by antp.be