Need for Speed Most Wanted Downloads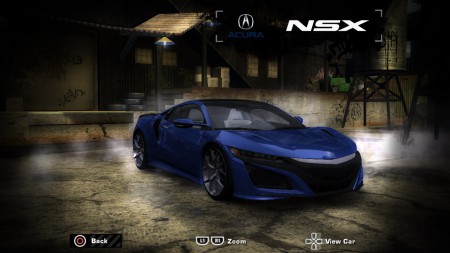 Added On November 30, 2020
Views 1,161
Downloads 341
Version Most Wanted
Brand Acura
This car replaces None (Addon car)
This mod replaces nothing, Xname of the Addon Car is NSX2017 (Also, it's my 25th Addon car released in this site since I already forgotten)
Get the 2017 Acura NSX from ModLoader if you want to replace Eclipse GT/CLK500 with it
Acura NSX (NC1) converted from Forza Horizon 3 & Project CARS 2
Features:
- LOD Parts
- Working brakelights
- New Performance data
- HD Logos
- Scratches
- NFSUC Driver
- 5 Special Colors in Contest Winners
Others:
- Added an uninstallation folder that has an nfsms file included for people to uninstall & install any addon cars they have while the endscript file was in the setup (this will also remove the files for endscript. Extract the files again manually in CARS Folder)
- Red was set as Stock color in both ED & Binary Version
- Added a Livery debug for the car to create one for Vinyl Modders, located in Mod Folder
- NFSNL Devil's Run Livery for the Addon car made by desanosan24 is now available (replace Body 04)
It can be customized with:
- Bodykits (2 kits, 3 with liveries)
- Rims
- All Performance upgrades
- Visuals (such as Vinyls & window decals)
Installation:
It's in the Installation txt for ED & Binary from Archive
Known bugs/Issues: None. Tell me if you find the others
Credits:
- Converted by Eclipse72rus. Also granted me to add & release his car mods in MW BUT to credit him & provide the link for the ModLoader car
- Performance by Eclipse72rus himself
- MW Recompiler by MWInside
- NFS-VltEd & NFS-TexEd (v1.7) by nfsu360
- NFS MW Unlimiter & Ed - The Car Dealer! by nlgzrgn
- Ant Renamer by antp.be
- Binary v2.2.0 by MaxHwoy
- NFSNL Devil's Run livery for the car made by desanosan24
Version 1.1

uploaded November 30, 2020

Raverz12345 uploaded a new version. The new file is 8.29 MB.

Included the Readme in ED & Binary Files since I forgot to put them.

Initial version

uploaded November 30, 2020

Raverz12345, Eclipse 72rus uploaded initial version. The original file is 8.29 MB.