Need for Speed High Stakes Downloads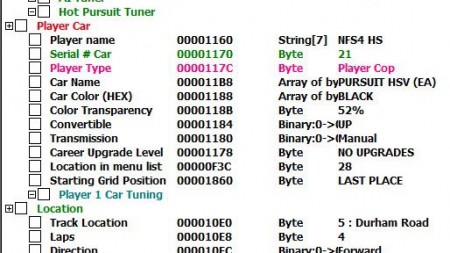 File updated on: August 7, 2022
A cheat table for NFS High Stakes that makes it possible to customize races by editing a ghost file (.gst).
For example, you can increase/decrease number of racers/cops/traffic in any race and even create custom two player races.
Ghost files are found in your Need For Speed High Stakes directory in the "SaveData" or "SaveData/Saves" folders.

Installation:

NOTE: Cheat engine application is required for this table to work. The link is provided in the User Manual.

Once you have Cheat engine installed, simply extract the downloaded folder to anywhere on your computer (desktop is recommended for easy access). You may now open "GST Editor.CT" and start customizing races. See the "User Manual" for information on how to get started.
To learn more about ghost file editing see the forum topic found here: https://www.nfsaddons.com/forums//index.php?topic=1831.0
Special thanks to DrSpeed for discovering ghost file editing!
Special thanks to Caio_96 for providing the virtual car sizes for all the EA cars!
Special thanks to AJ_Lethal for providing a spreadsheet that shows the color codes available in the ghost editor!
Version 5.2

uploaded August 7, 2022

Zalcus20 uploaded a new version. The new file is 1 B.

-Added more example ghost files. Feel free to use any of these as a base to help you get started with ghost editing.

Initial version

uploaded August 1, 2022

Zalcus20 uploaded initial version. The original file is 404.91 KB.