Need for Speed High Stakes Downloads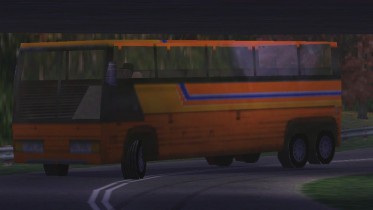 Author:
FerrariMan
Added on: October 11, 2009
Viewed: 4,535 times
Downloaded: 828 times
Share this car:Click to copy URL
Touring Bus by FerrariMan for Need For Speed 4.

V1.0 Features:
- Converted from traffic [bus]
- Full Grid racing support on all PCs (971 polies)
- Clear windows if your graphics card supports it
- Changeable colors
a: White
b: Blue
c: Red
d: Black
e: Yellow
- Custom Color Support
- Realistic CARP.TXT performance data
- Career Mode Price: $10,000
- Full interior with driver
- Engine Sounds
a: should work on all sound modes...
- Accurate Car Compare function
- Customizable License Plate

Planned Features (V1.x):
- Possible edited dashboard view
- Driver movements
- Upgrades in Career Mode
a: Performance
b: Visuals
c: Prices and Car Compares
- Passengers in interior (?)
- Doors on each side
- Vidwall

Enjoy,
-FerrariMan

PS: I know the handling's terrible, could someone help me by editing the CARP.TXT...?
Also, if Semi Trucks is a bad place to put it, let me know.
Damage
Yes
Convertible
No
Dashboard
None
Class
B
Vidwall
No
Serial #
40
Windows
Clear
Licence Plate
Customizable
Top Speed
56 mph
90 kmh
Polycount
971
Driver
Customizab