Need for Speed High Stakes Downloads
Police Interceptor Concept Hometown SD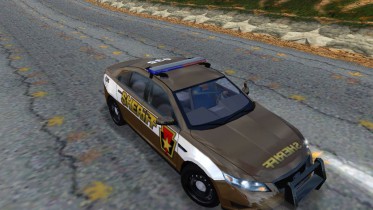 Author:
AJ_Lethal
Added on: April 20, 2018
Viewed: 2,284 times
Downloaded: 287 times
Share this car:Click to copy URL
base from NFSHP'10 (Wii version) -thanks to RacingFreak for the mesh-
Intro:
Set to replace the aging Crown Victoria, the Taurus-based Police Interceptor packs a 365 hp twin-turbo V6 engine and AWD to perform police duties.
Features:
Scratch-made? Polycount Colors Interior Dash Driver
no, base from NFSHP'10 (Wii) 5315 none yes no Police Sedan (modified)
Performance Class 0-60 mph (100 km/h) Top Speed
A 5.5 s 159 mph (256 km/h)
Misc. features:

Damage
Sounds from NFSU2's Hyundai Tiburon
Removable bullbar (via convertible option)
Traffic replacement version included

Installation:
Extract this file... ...into this folder
car.viv datacarsfpih
fpih.qfs datafeartvidwall

To install the traffic version just extract the trafficcar.viv file into any of the folders of the datacarstraffic folder of NFSHS. (make backups first!)

Used tools:
ZModeler 1.07b & 2.2.6 | Blender | GIMP | FCE Centerer | NFS Wizard | Real Tuner 2
Copyrights/permissions:
If you would like to modify and/or distribute this mod, please:

keep this readme file without any alterations whatsoever (in case of just sharing this mod around)
give me proper credit (AJ_Lethal) for creating the mod
Seriously, respecting those conditions is not hard at all. Unless you're terminally dumb or a shameless, talentless hack.

Damage
Yes
Convertible
Yes
Dashboard
None
Class
Pursuit
Vidwall
Yes
Serial #
45
Windows
Clear
Licence Plate
None
Top Speed
159 mph
255 kmh
Polycount
5315
Driver
Animated