Need for Speed High Stakes Downloads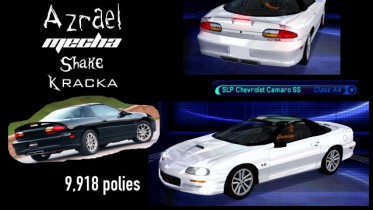 Author:
F-body Faction
Added on: January 2, 2007
Viewed: 3,437 times
Downloaded: 693 times
Share this car:Click to copy URL
F-body Faction is:

Azrael, mecha, Shake, Kracka, DanR

Contains accurate showcase information (duplicate the EA Camaro/Firebird vidwalls if you want), authentic color presets, and no damage.

These versions are final.
F-body Faction is finished with NFS4.

Thank you and enjoy.
Damage
No
Convertible
Yes
Dashboard
Yes
Class
AA
Vidwall
No
Serial #
44
Windows
Clear
Licence Plate
Customizable
Top Speed
160 mph
0 kmh
Polycount
9918
Driver
Animated