Need for Speed High Stakes Downloads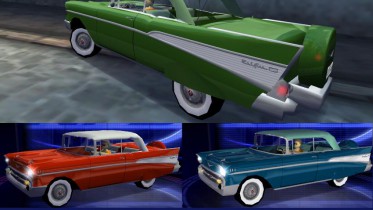 Author: Tim Bauermore from Tim Bauer
Added on: September 5, 2006
Viewed: 4,941 times
Downloaded: 921 times
Favorited: 0 times
Share this car:Click to copy URL
I give most credit to 311_Hive because of his awesome cars.
This car was made from his 1957 belair coupe. I added side view and rear view mirror, the continental kit, the antenas in back and an undercarage. I cut the roof and maed it a convertible.

NOTE:This car was in a state of disrepair. I repaired the defects in all files and have resubmitted the car yet take no Credit
for the Mesh nor TGA files.
there is no Dash included in this Car.
NOTE: I apparently forgot to add a readme file (the original car folder had none) but, you all know the drill:
No using parts/textures/car as a base without proper/prior consent from the otiginal author !
Damage
Yes
Convertible
No
Dashboard
None
Class
AA
Vidwall
No
Serial #
47
Windows
Clear
Licence Plate
Customizable
Top Speed
198 mph
316 kmh
Polycount
5765