Need for Speed Hot Pursuit Downloads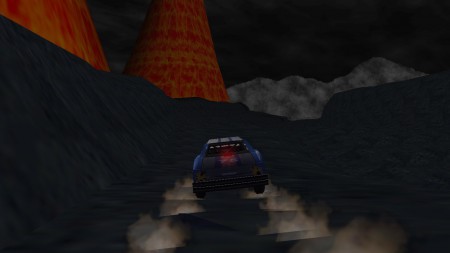 Version Hot Pursuit
Original Track Summit
This track is Dante's Peak, an alternate version of Summit set on the slopes of a volcano in full swing, all covered by a thick layer of ash, where there are a lot of withered trees, 4 volcanic cones from which the lava flows and a ghost town.

To install it put "trk007" folder that you find in the downloaded Zip file into "C:/Program Files/Electronic Arts/Nfs3/Nfs3/Gamedata/Tracks" and replace the existing one.

A slide is also available named "t7_00.qfs", that will appear on the screen before every race, when the player car you are using does not have one, to insert in the path "C:/Program Files/Electronic Arts/Nfs3/Nfs3/Fedata/Art/Slides".
Visit my Youtube channel "Opus IV Gamer" (https://www.youtube.com/channel/UCoIje9MbCb2TOtrMmGttYNg) to see a lot of videos that I made on Need for Speed III Hot Pursuit and don't forget to subscribe to it for new coming videos.

Here a video taken from my YouTube channel of a tournament competition made entirely on this track featuring a demolition derby car https://www.youtube.com/watch?v=DAJZnwLYr_g