Need for Speed Hot Pursuit Downloads
Shelby Cobra Daytona Super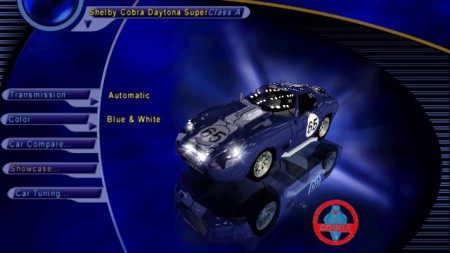 Added On January 16, 2022
Views 2,279
Downloads 104
Shelby Cobra Daytona Super By Captain
Update release December 14th 1999
I tried to give this car real technical settings, so don't change them.
There are 8 real Cobra Daytona ever built. Six were built with chassis of 289 Racing in 1964-1965. Those cars won the world championship. The seventh Daytona 289 has been built in 1994(but exactly like the others) from a true Cobra 289 Racing. The last one was built in 1965, and is the Cobra Daytona Super (with 427ci engine), the one I've modeled for NFS3. Since I hadn't pics of this unique Daytona 427, I used pics of the 1994 Daytona 289 for first release. Now, this update has been modeled using pictures showing the real Cobra Daytona Super. The Daytona Super has the same engine and chassis than a 427 Racing, but is faster thanks to it's aerodynamic shape (Drawn by Pete Brock) It's also easier to handle because of stronger aerodynamic downforce.
During the year 1965, the Daytona 289 used to finish some races before the new Ford GT 40 MK I (this one was using same engine as the Cobra). Then, they decided to entrust Shelby the GT 40 race program. The counterpart was that Shelby couldn't engage his Cobra any more against the GT 40. That's why the Daytona Super didn't race.
---
This car has been built from EA's Jaguar XK8
The wheel mesh used is made by Jason G Trusty. They were downloaded on "NFS Performance & Machine shop" site.
I used the following tools:
CardCad v1.4b
MRC Cartool
VIV Wizard v0.8
Breeze designerV2.05 and POV-RAY V3.0 for dashboard and steering wheel
I needed many many hours to build and test it.
---
Thanks to:
Menino K: He provided me the pics I needed to complete this update.
Luuk De Boer for his great Cobra page (with a large pic archive): http://www.xs4all.nl/%7Eluukb/
The Australian Cobra Club for their site (where I found interesting datas): http://members.ocean.com.au/hammond/cobracars/directory.htm
All the authors of Carcad, VivWizard ... and so on...
The Webmasters who will accept this car for downloading.
Hope you'll enjoy !