Need for Speed Hot Pursuit Downloads
Shelby Mustang GT 500 "Eleanor"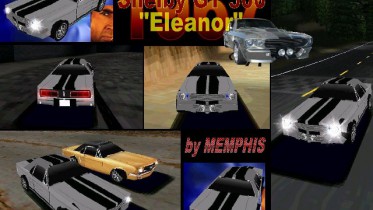 Author: Memphismore from Memphis
Added on: September 4, 2004
Viewed: 9,638 times
Downloaded: 1,795 times
Favorited: 0 times
Share this car:Click to copy URL
This ist "eleanor" from the Movie "Gone in 60 seconds". It is basing on the Ford Mustang from the traffic. The car has a new sound!!!

Visit my homepage to see my latest cars:
www.raphael.krempel-web.de
!-_-!
Damage
Convertible
Dashboard
Class
B
Vidwall
Serial #
Windows
Licence Plate
Top Speed
0 mph
0 kmh
Polycount
0