Need for Speed Hot Pursuit Downloads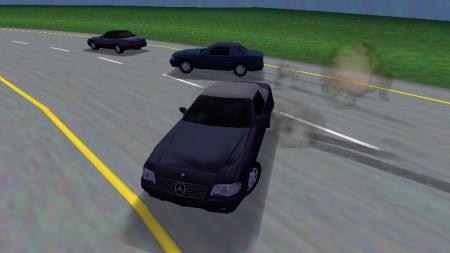 Added On September 18, 2022
Higher quality model as EA replacement plus a few minor fixes.
As it was trivial job to do, traffic '92 SL500 is also provided (cheatcode TESTDRIVE or GO00)
Stats:
512x texture for high quality texture mod on VEG patch
256x texture can be used instead by renaming CARGAR.TGA
2860 (2842 SL500) total combined polygons for compatibility with unpatched game:
1486 (1480 SL500) polygons for high quality model (LOD0)
844 (838 SL500) polygons for medium quality model (LOD1)
518 (512 SL500) polygons for low quality model (LOD2)
12 polygons for tiny model (collision)
Sound was left unmodified
Centred dashboard view
Slighty revised gear efficiency to remove shift skipping
Corrected colours and given adjusted so AI will use all of them.
Traffic SL500 retains original gray colour, however using TESTDRIVE or GO00 will retain player's colours for a more colourful racing.
Screenshot of the Day
Dec 09, 2022