Need for Speed Hot Pursuit Downloads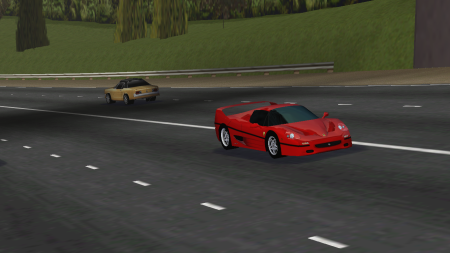 Added On November 23, 2022
Views 3,075
Downloads 337
The Ferrari F50 for Need for Speed III, inspired by rata536 models.
Features:
2868 poiles in total; with all LODs combined;
--1530 polies for high body;
--828 polies for medium body;
--496 polies for low body;
--14 polies for tiny body;
7 colors, (5 official, 2 additional Ferrari colors from other models);
Multi-language support;
Sounds from the PS1 NFSHS (thanks to rata536);
Showcase with full narration and interior view;
Alternate loading slide compatible with rata536 loading slides: https://www.nfsaddons.com/downloads/nfshp/bootscreens/6648/consistent-race-slides-pack.html
Car compare slide, with support for G.L.97 and Schnoobler add-ons.
Installation:
Backup your files first;
Open your Need for Speed III directory;
Copy the 'FF50' folder to "Data/Cars";
Copy the "FeData" items to the "FeData" folder, confirm to replace the "COMPARE.qFS" and "COMPARE.FSH" files;
Copy one of the "05_00_XX.qFS" files to "FeData/Slides" (rename "05_00_PC.qFS" to "05_00.qFS" if you're using the vanilla loading slides, or "05_00_PS1.qFS" to "05_00.qFS" if you're using rata536's);
Run the game and select the desired vehicle.
Notes:
The car has optional CARHD.TGA and CARGAR.TGA texture files, the latter used with 256x256 resolution like the vanilla cars, and CARHD.TGA being a backup copy of CAR00.TGA's 512x512 default texture for the car.
Credits:
rata536 - tons of assistance, including LODs, sound, dash indicator, resources and assets;
Schnoobler - help, with photoshop of the showcase and dashboard files;
DMN - models and texutures from Real Racing 3 and Forza Horizon.
Viper Jay 5 - additional textures from Hot Pursuit 2
AJ_Lethal - NFSHS Carp editor (used for this car right before he released his proper NFS3 editor).
Sources:
Need for Speed II and NFS High Stakes.
Enjoy!