Need for Speed Hot Pursuit Downloads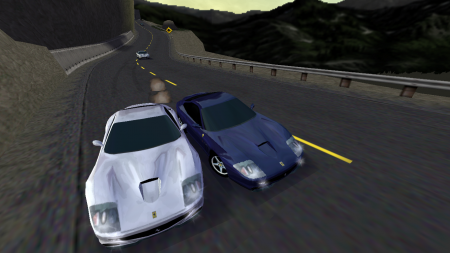 Views 1,883
Downloads 139
File updated on: August 14, 2022
Higher quality model as EA replacement plus a few minor fixes.
Stats:
512x texture for high quality texture mod on VEG patch
256x texture can be used instead by renaming CARGAR.TGA
2990 (up from 2970 of previous version) total combined polygons for compatibility with unpatched game:
1692 (up from 1672 from previous version) polygons for high quality model (LOD0)
860 polygons for medium quality model (LOD1)
426 polygons for low quality model (LOD2)
12 polygons for tiny model (collision)
New sound samples from NFS: High Stakes PSX version

Dashboard was left unmodified as it was on spec
Slighty revised gear efficiency to remove shift skipping
Added white shade forAce, and enjoy the new shade' Blu Tour de France'- Actually, Dead Beat will use it, but that means Azurro California is just for you. Corrected Verde Mugello in both name and shade.

Thanks to NFSF1McLaren to suggesting adding Tour de France, fixing Rosso Corsa and Giallo Modena.
The new version has 3D lights (thanks to AJ_Lethal for insisting on this, as well as providing detail info that I missed) which are of much help given the shape and size of this car's headlights. For the hardcore purists out there, the old version with 2D lights is still included on the pack, so we all can enjoy the new shade and a minor fix.

Version 1.2

uploaded August 14, 2022

rata_536 uploaded a new version. The new file is 2.4 MB.

Adjusted UV
Adjusted normals
Adjusted Rosso Corsa, Giallo Modena and Verde Mugello

Version 1.1

uploaded March 4, 2022

rata_536 uploaded a new version. The new file is 3.64 MB.

Fixed front lip being glossy, now is matte -thanks Zipper for pointing it out
Added new shade "Blu Tour de France" -thanks NFSF1McLaren for the suggestion
Added 3D headlights -thanks AJ_Lethal for the suggestion
Optional 2D headlights version is available -I'm talking to you, Schnoobler

Initial version

uploaded March 1, 2022

rata_536 uploaded initial version. The original file is 1.2 MB.