Need for Speed Carbon Downloads
Extra Tire Options for NFS: Carbon Extended Customization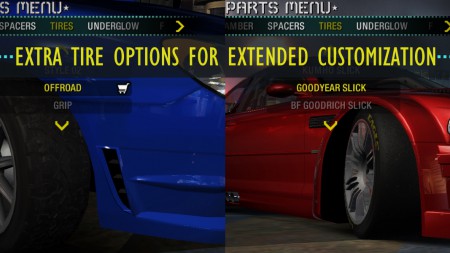 File updated on: September 5, 2022
Extra Tire Options for NFS: Carbon Extended Customization
***DON'T UPLOAD THIS MOD IN ANOTHER SITE WITHOUT MY PERMISSION***
***BEFORE YOU DOWNLOAD: This tool was tested with the most recent version of Extended Customization mod, from Archie, installed in a base game. Compatibility with other mods like Improvement mod or Redux are not 100% guaranteed. Installing this mod means that you take the risk***

What does this tool have?
This mod adds Offroad and Slick Tires options into "TIRES" section, which is part of Extended Customization made by Archie.

***Refer "readme.txt" for installation steps and credits info. Thanks for your download.***
Last comments
+This tool was a small experiment I did while I was making a new car mod. In addition, I think this small tool could fit pretty well with some cool mods that the community can make, like offroad cars or competition-styled custom cars. I don't know, just go and make some fancy customizations!
+As always... Do you think performance and/or sound can be impr... Wait, this is not a car mod! Emm... How can this work... ? Ah yes! Do you think textures can be improved? Feel free to edit them, but please share them with the community, so everyone will enjoy the mod.
Version 1.0.1

uploaded September 5, 2022

Henry_Allen05 uploaded a new version. The new file is 1.01 MB.

-Small revision in Binary script.
-Added an option to those users who have edited their "GLOBALB.LZC" file with programs like TexEd.

Initial version

uploaded August 25, 2022

Henry_Allen05 uploaded initial version. The original file is 1.01 MB.