Need for Speed Carbon Downloads
Mazda RX-8 Torque and Handling Performance Buff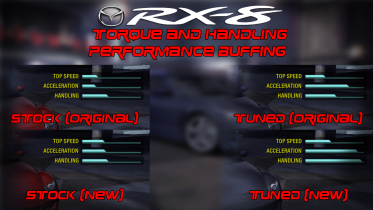 Author:
NFSF1McLaren
Added on: October 27, 2019
Viewed: 551 times
Downloaded: 78 times
Favorited: 0 times
Share this file:Click to copy URL
So, the rotary you pickd as a career starter seems to be underperforming in races? Not anymore! Now your rotary can catch up with models of Nissan, General Motors and cars above one tier.
Features:
Expansion of the vehicle's torque values, to match closely the 240SX performance;
Increased the handling values once upgraded.
Installation:
Open VLTEd, go to the top bar and click on File>Import>ModScript or just press Ctrl+I;
Find the folder you have put the files and select the rx8fast.nfsms script
Once the script is imported, click on File>Save or press Ctrl+S;
Run the game.
Credits:
Tools used:
Enjoy!